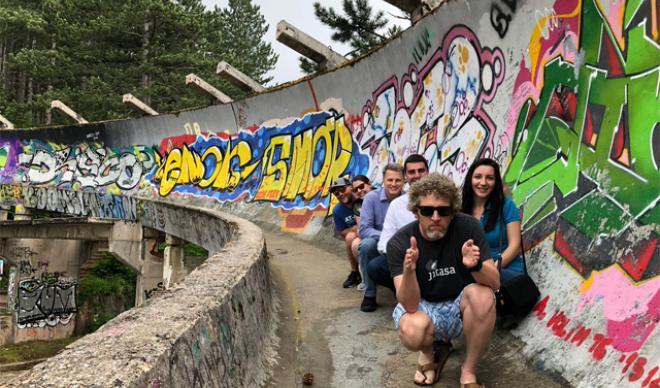 The following is from the Fall/Winter issue of Quest Magazine. To view the entire issue or to read some longer-form versions of past Quest stories, click here.
Alumni bring Boise-based Jitasa to Bosnia 
All students who attended the United World Colleges (UWC) before traveling to The College of Idaho know the UWC's mission statement: to make education a force to unite people, nations and cultures for peace and a sustainable future.  
Bosnian College of Idaho alumni Igor Samardzic '13 and Jasmina Hasic '12 didn't just memorize these words as graduates of UWC Mostar – they internalized them, and continue to live them. The pair are the founders and leaders of the Sarajevo branch of the Boise-based Jitasa, an accounting organization committed to improving the effectiveness and efficiency of nonprofit organizations that serve millions of people and causes worldwide. Together, the duo work to carry out the vision of Jitasa, which takes its name from a Thai word meaning "the spirit of serving others" – a spirit not unlike the values they learned as students. 
"I am a mission-driven person," Samardzic said. "UWC's mission was embedded into my personal mission, which is well-aligned with Jitasa's mission. Providing support to nonprofit organizations that do a lot of good worldwide is a great mission I can contribute to." 
'The right thing to do' 
After graduating with honors from the College with a degree in business administration in 2013, Samardzic began working for Jitasa at its Boise headquarters, providing accounting and bookkeeping services to a variety of nonprofit clients across every sector. Although Samardzic made an immediately positive impression on his coworkers in Boise, he ultimately returned to his hometown of Sarajevo in 2014. Undeterred by the distance, Samardzic proposed his services to Jitasa as an international contractor about six months after his move. 
Jitasa CEO and founder Jeff Russell said he initially turned down Samardzic's proposal, but Samardzic's positive reputation with the company combined with the strategic positives an additional international location could bring to Jitasa's capabilities caused Russell to reconsider. With a location in Sarajevo combined with its already established locations in Boise and Bangkok, Thailand, Jitasa could work with clients 24 hours a day, shifting accounting and data entry work around each location as needed. 
"We already had an international location in Thailand, so I wasn't sure what we would do in Sarajevo," Russell said. "But the more we talked about it, the more it felt right. It happened somewhat accidentally, but it all worked out and felt like the right thing to do." 
Building bridges 
Jitasa's Sarajevo location started with humble roots, operating entirely out of Samardzic's apartment. While Samardzic was still working as a contractor, he reached out to Hasic about the possibility of her joining Jitasa in the spring of 2015. Hasic, herself a business administration graduate, had just completed an internship with Ernst & Young in Sarajevo and found herself eager to join in Jitasa's mission. 
"The whole story [of Jitasa] was inspiring, and most importantly had a purpose that was aligned with my own," Hasic said. "Being able to give your contribution back to the world through the work we do and working with nonprofit clients that inspire you to be better is very rewarding." 
With Hasic on board and with Russell laying the groundwork for formal office space in Sarajevo, the twosome began to plan for rapid growth in Sarajevo, specifically targeting what Hasic described as "young, ambitious, smart, cross-functional individuals."  
Samardzic's vision for the budding Sarajevo branch focused on the high youth unemployment rate in the city; Bosnia has one of the highest youth unemployment rates in the world at more than 50 percent. 
"This was the opportunity for me to bring Jitasa to Sarajevo, provide meaningful careers to the Bosnian youth, keep working for this awesome company, and keep living a global life where our work could help create a peaceful and sustainable future." 
Russell noted the significance of Samardzic seeking out Hasic given the country's ethnic tensions following the Bosnian War that ended in 1995. Although the pair come from formerly opposed ethnic groups in the region, neither see ethnicity in Bosnia as a barrier. "To me, it's powerful that the first thing Igor did was seek out Jasmina. They're creating a company that's modeling the future of what Sarajevo should be, that even deeply-divided groups can come together for a greater purpose." 
In December 2015, Jitasa organized a two-week educational "Boot Camp" in Sarajevo as a way to kickstart formal hiring efforts in the city. These hires became the core group of Sarajevo's formal branch opening in January 2016. Today, Samardzic is managing director of Jitasa Sarajevo, with Hasic working as the team manager. The duo works together to manage Jitasa client operations, acquire new talent, and handle day-to-day duties for the location. 
As of October 2019, Jitasa Sarajevo employs over 60 staff – one of the largest U.S. employers in Sarajevo today. With the branch continuing to grow, Samardzic and Hasic are continuing to draw on their experiences they gained at the College to continue in the service of others. 
"Who I am today was very much influenced by the opportunities I had the luck to be gifted with," Hasic said. "Having spent years with international students and professors that come from different backgrounds has helped me grow a lot, both academically and as a person." 
"The C of I will not only teach you theory," Samardzic added. "It will provide you a chance to practice and experience it, and even more important, a chance to inherit some awesome values that will shape you as a person for life." 
To learn more about Jitasa, visit www.jitasagroup.com. 
The College of Idaho has a 129-year-old legacy of excellence. The College is known for its outstanding academic programs, winning athletics tradition and history of producing successful graduates, including seven Rhodes Scholars, three governors, and countless business leaders and innovators. Its distinctive PEAK Curriculum challenges students to attain competency in the four knowledge peaks of humanities, natural sciences, social sciences and a professional field—empowering them to earn a major and three minors in four years. The College's close-knit, residential campus is located in Caldwell, where its proximity both to Boise and to the world-class outdoor activities of southwest Idaho's mountains and rivers offers unique opportunities for learning beyond the classroom.  For more information, visit www.collegeofidaho.edu.