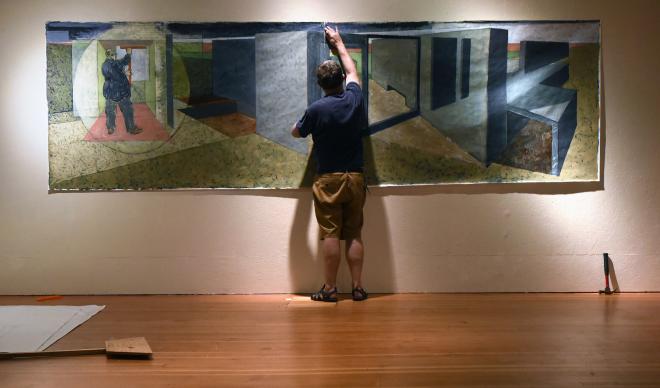 When they aren't mentoring the next generation of artists in Langroise Hall, the faculty of The College of Idaho's art department works to perfect their own craft. Starting on Sept. 14, 2017, the faculty will present their own work for the Rosenthal Faculty Art Show, which will be one of many activities making up the College's 2017 Homecoming Week.
Hosted by the College's Rosenthal Gallery of Art on campus in Blatchley Hall, several members of the College's art faculty will present artwork in a variety of mediums, from paintings and pottery to photography and other forms of mixed media.
"I think it's an excellent way to welcome in Homecoming and the fall semester," Rosenthal Gallery Director Garth Claassen said. "I believe it's good for our students to see that their teachers are making things of their own and that we're not just teaching them art, but continuing to make our own."
Claassen will be one of six artists whose work will be shown at the gallery, all of whom are also members of the College's art faculty. Other artists on display include Stephen Fisher, Alice Vinson, April Vandegrift, Eric Mullis and Cassandra Schiffler.
The Rosenthal Gallery of Art has been a part of the College's Homecoming events for several years, often hosting a show during Homecoming Week. While some years have featured works from alumni, other years have included faculty shows, including this year's event.
"Homecoming works well to bring in more eyes to the gallery," Claassen said. "It works well to time our fall shows with when we have a greater number of people visiting campus. We're glad to be working with the College and be part of the events."
While the work will be on display beginning on September 14, the gallery will host a reception for the artists starting at 4 p.m. on Friday, Sept. 15. The event is free to attend and will feature light refreshments. Each piece on display will be available for sale by the artists.
"It's shaping up to be an excellent show," Claassen said. "I think our faculty is very well-rounded and representative of many different kinds of art. We will have a good variety for everyone to see."
The artwork will remain on display in the gallery until its next exhibition, which is yet to be determined. The gallery is free to view and is open to the public on weekdays from 10 a.m. through 5 p.m. Visitors may also schedule private viewings with Claassen via email at [email protected]. 
The College of Idaho has a 125-year-old legacy of excellence. The C of I is known for its outstanding academic programs, winning athletics tradition and history of producing successful graduates, including seven Rhodes Scholars, three governors, four NFL players and countless business leaders and innovators. Its distinctive PEAK Curriculum challenges students to attain competency in the four knowledge peaks of humanities, natural sciences, social sciences and a professional field—empowering them to earn a major and three minors in four years. The College's close-knit, residential campus is located in Caldwell, where its proximity both to Boise and to the world-class outdoor activities of southwest Idaho's mountains and rivers offers unique opportunities for learning beyond the classroom.  For more information, visit www.collegeofidaho.edu.