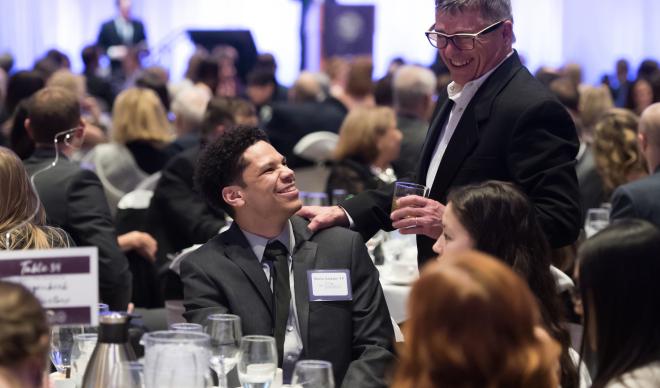 College of Idaho freshman Mia Maldonado stepped into the spotlight on March 1 and, in front of a packed room, reinforced to everyone exactly why they were there.
"I am here today," she began, "because of those of you who have made it possible for me to attend my dream school."
Maldonado was one of several students who attended the 2019 Scholarship Gala at The Boise Centre on the Grove in downtown Boise, putting a face on why the Gala takes place every year – to help fund academic scholarships. Maldonado is from Coeur d'Alene and is a first-generation college student. Her mother (who attended the Gala with her) is from Mexico and her father is from Paraguay. Maldonado is double-majoring in International Political Economy and Spanish, with minors in Communications and Health Promotion.
"The powerful moment for the College is to be there with students and for the entire room to understand why we're there, which is to fund student scholarships," said Jack Cafferty, the Associate Vice President of College Relations. "The 'moment' for the College is when the donors really get that, when they really understand the message."
The end result was record-setting: The 570 guests at the Gala contributed $461,000 to The College of Idaho via live and silent auction, with all the funds going toward scholarships.
"The event was transformational for the College because we incrementally saw a gain in scholarships that we haven't seen," Cafferty continued. "It's a great time to be a Yote. There's something special going on at the College under this new leadership team."
The new team, headlined by Co-Presidents Doug Brigham and Jim Everett, watched the bids roll in (and, at times, placed their own bids) as this year's Gala set a new fundraising record and surpassed its goal by nearly $100,000. Among the items up for auction were a Golden Retriever puppy, donated by Bob and Jean Bonar (both Class of 1966), as well as a trip to the PGA's Safeway Open pro-am tournament in California, which was provided by Albertsons.
The buzz around the event, titled "Puttin' on the Glitz," has been incredibly high, according to Cafferty.
"You couldn't leave that night without seeing or having the opportunity to speak to a student," Cafferty said. "Our audience members, friends, alumni, donors of the College were in the room that night and they understood why we were there."
They were there for students like Maldonado.
"I've made friends from all around the world, the academics are one of a kind and, even as a freshman, I've found mentors for life," she told the audience. Here entire message can be seen on the College's YouTube channel, linked here.
Cafferty, who is already working on the 2020 Scholarship Gala, took a moment to thankfully reflect on everyone who contributed in the night's successes by concluding, "They believe in our students."
A gallery of images from the event can be seen here.
The College of Idaho has a 128-year-old legacy of excellence. The C of I is known for its outstanding academic programs, winning athletics tradition and history of producing successful graduates, including seven Rhodes Scholars, three governors, and countless business leaders and innovators. Its distinctive PEAK Curriculum challenges students to attain competency in the four knowledge peaks of humanities, natural sciences, social sciences and a professional field—empowering them to earn a major and three minors in four years. The College's close-knit, residential campus is located in Caldwell, where its proximity both to Boise and to the world-class outdoor activities of southwest Idaho's mountains and rivers offers unique opportunities for learning beyond the classroom.  For more information, visit www.collegeofidaho.edu.