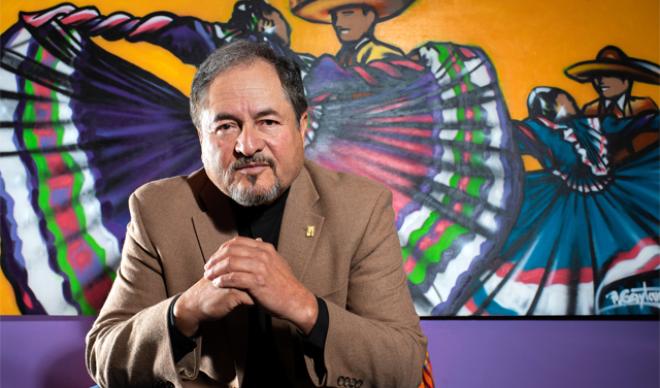 The Student Affairs Division is pleased to announce some exciting staffing developments!
Assistant Dean of Students, Director of Inclusion & Intercultural Engagement
Arnoldo Hernandez, longtime Director of Inclusion & Intercultural Engagement, has been promoted to Assistant Dean of Students and Director of Inclusion & Intercultural Engagement.  During his time at The College of Idaho, Arnoldo has helped support and expand institutional commitment to inclusion and diversity.
Arnoldo shares this about himself:
Over 25 years ago, my journey began at The College of Idaho founding the original Multicultural Affairs Department under President Hendren. To see the diversity in our student population today is very rewarding. Being appointed Assistant Dean of Students allows for me to continue my efforts towards creating a more inclusive and equitable campus.
Life Coach, Counseling Center
Mike Shines joins the counseling staff in our Student Wellness Center as a Life Coach. With The College of Idaho since 1991 as Director of Aquatics and a Strength and Conditioning Coach for Rehabilitation, Mike is a familiar face to many. 
When asked to share a bit about himself, Mike tells us:
I have worked and been involved in many areas of the fitness and wellness industry for over 50 years. My positions as Director of Aquatics and a Strength and Conditioning Coach for Rehabilitation give me opportunities to work with students, faculty, and staff on campus.
As a Life Coach, my experiences have allowed me to believe in the importance of trying new things, taking calculated risks, and stepping out on your own to create your own identity. I also believe when you take the time to reach out for the first time and share your thoughts with another human being you trust that has had those life experiences, you may gain insight.  Insight which will keep you from making the same mistakes so many of us did. By making it a habit to reach out, you give yourself the opportunity to make your day better and perhaps improve some else's. So, remember to just reach out.
Director of Student Involvement and Leadership
Erin Lasher, M.Ed. replaces Savala DeVoge in this slightly re-imagined position. Many probably know Erin from her time over the past three years as an Admission Counselor here at the College, and we now welcome her to Student Affairs.
When asked to share a little about herself, Erin tells us:
As an undergraduate student at Linfield College, I threw myself into several student organizations and tried to squeeze as much out of my college experience as I could. Directly after graduating, I started my career in higher education as an Admission Counselor. That same position led me to the YoteFam, where I have been for the last 3 1/2 years. Two years ago, I began my Master's in Educational Leadership program at Boise State University which fueled my desire to work in Student Affairs. As the Director of Student Involvement & Leadership, I look forward to working with all students on campus and helping you blossom and flourish through student involvement. Fun Fact: I volunteer at Simply Cats in Boise every weekend and have a huge passion for animal welfare. Also, not to brag, but I am dynamite at trivia. If you ever need someone on your trivia team - you know who to call!
Multicultural Counselor
Aman Gill, LMHCA, LCP, CHt, replaces Brian Davies in this newly structured counseling position. Aman is working remotely until Spring 2021 and will be a valued addition to our counseling team!
Here is what Aman shares about herself:
My name is Aman Gill and I hold a Master's Degree in Counseling Psychology through Yorkville University. I have a Bachelor's of Arts Degree majoring in Psychology from McGill University where I also minored in Behavioral Science and Religion.
I belong to the American Psychological Association as well as the Canadian Counseling and Psychotherapy Association. I am also a proud member of the American Council of Hypnotist Examiners as a Certified Clinical Hypnotherapist. In addition, I am a Licensed Professional Counselor Intern with the Oregon Board of Licensed Professional Counselors and Therapists, as well as hold a Mental Health Counselor Associate License with the Washington State Department of Health. My counseling experience includes a position as a co-occurring program therapist at a substance use and mental health treatment center, as well as a cancer care counselor at a holistic wellness center. My volunteer experience includes a research team that examined resiliency factors in students, a palliative care unit, a women's shelter, as well as a listening call center.
I have an integrative and holistic approach to counseling and draw on a variety of techniques from different orientations. My experience has taught me that every individual and story is unique, and that it is imperative to work together with my clients to find the right approach and solution that meets their needs. 
I am thrilled to be a part of the Health and Wellness Center team here at The College of Idaho. I am originally from Montreal, Canada where I was born and raised. I grew up in a city rich in culture and diversity, which I attribute to the growth and development of my multicultural awareness and counseling skills.
I have had the opportunity to work with individuals from many different backgrounds, which has continuously broadened my worldview and understanding. Through my travels, I continue to hone this skillset, and am always excited to implement what I have learned. I had the good fortune to study different languages along the way and am fluent in French, Punjabi, and English.
I know firsthand the stressors students face during their college years, and the toll it can take on their mental health. I also understand how important it is to seek and receive support during these times. I recognize how difficult it can be to take those first steps, but I can assure you that you will be met with a safe and compassionate space to share. We will work together with an understanding and embodiment of your worldview so you can receive the support and help that fits your individual needs. 
No issue or concern is too big or small. Please do not hesitate to reach out. I look forward to hearing from you.
We welcome these very talented professionals to their new positions and roles at The College of Idaho! 
The College of Idaho has a 129-year-old legacy of excellence. The C of I is known for its outstanding academic programs, winning athletics tradition and history of producing successful graduates, including seven Rhodes Scholars, three governors, and countless business leaders and innovators. Its distinctive PEAK Curriculum challenges students to attain competency in the four knowledge peaks of humanities, natural sciences, social sciences and a professional field—empowering them to earn a major and three minors in four years. The College's close-knit, residential campus is located in Caldwell, where its proximity both to Boise and to the world-class outdoor activities of southwest Idaho's mountains and rivers offers unique opportunities for learning beyond the classroom.  For more information, visit www.collegeofidaho.edu.