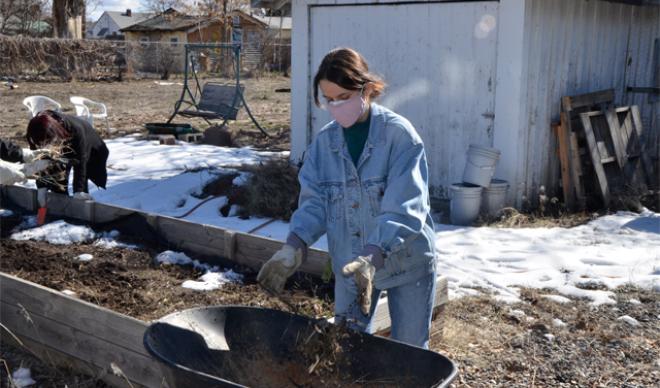 It was a brisk February afternoon. The sun was out, but the wind was blowing. That didn't stop more than a dozen College of Idaho students from volunteering some time to clean up the Eco-House community garden on Oak Street, across from the J.A. Albertson Activities Center parking lot.
The volunteers, led by sustainability stewards Ian Clifford and Sahko Littler, were starting the process of bringing the lot back to life.
"We definitely need to transform the garden," said Littler, a freshman from Eswatini majoring in environmental studies. "It's been abandoned, which is quite sad, but it holds a lot of potential to be a benefit for not only just us but a large part of campus."
The garden contains several raised garden beds as well as open space. Littler and Clifford are leading the charge to utilize the space in their roles as sustainability stewards, which are positions within the College's Outdoor Program.
"Later on, we're going to plant food for the College's food pantry so that, this summer, students who are still on campus can have fresh fruits and vegetables," said Clifford, a sophomore from Meridian who is double-majoring in environmental studies and English.
Clifford says they're still determining exactly what will be grown in the garden but it's likely that tomatoes, carrots, and cucumbers will be planted.
While volunteers continued to clean out the raised garden beds, the two stewards talked about the importance of the community garden and why they got involved.
"It is a way to ensure that, not only this year, but hopefully in future years, food insecurity around the College can be less of an issue," Clifford explained.
Littler's motives included the campus, but also the world beyond.
"I really want to be involved with more environment-sustaining initiatives in the future for my career," she said. "It's something I want to do so, I thought, why not start early?"
The two students work for Bix Firer, the director of the Outdoor Program, who was also manning a rake and shovel that day.
"Students that lead other students develop the professional skills they will need to succeed after college," Firer said. "Project management, people skills, public speaking are all things a project like this teaches. These are essential skills for success in life and student leadership is the ideal laboratory for students to learn this in."
For more information on the community garden or the College's sustainability stewards, contact the Outdoor Program.
The College of Idaho has a 130-year-old legacy of excellence. The College is known for its outstanding academic programs, winning athletics tradition, and history of producing successful graduates, including seven Rhodes Scholars, three governors, and countless business leaders and innovators. Its distinctive PEAK Curriculum challenges students to attain competency in the four knowledge peaks of humanities, natural sciences, social sciences, and a professional field—empowering them to earn a major and three minors in four years. The College's close-knit, residential campus is located in Caldwell, where its proximity both to Boise and to the world-class outdoor activities of southwest Idaho's mountains and rivers offers unique opportunities for learning beyond the classroom. For more information, visit www.collegeofidaho.edu.