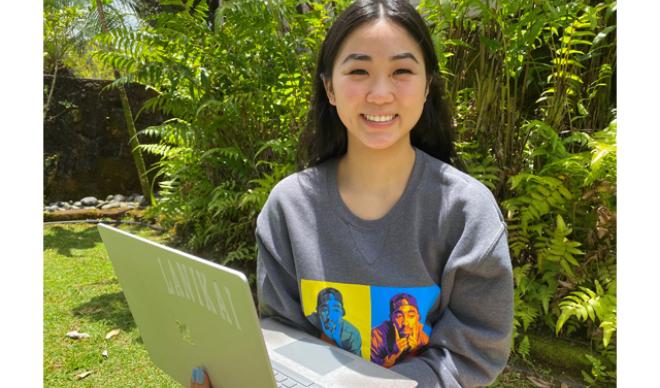 All students were forced to change routines when The College of Idaho suspended on-campus classes in March due to COVID-19 concerns.
Sophomore Reannon Suzuki's routine changed more than most.
"I wake up at 4:30 a.m. to get ready for my 5:10 class," Suzuki said. "After I finish with my last two classes, I take a nap."
Suzuki's trip home when the campus closed took her to Mililani, Hawai'i, a community north of Pearl Harbor on the island of Oahu. The time difference between Oahu and the College's campus is four hours. So a 9:10 a.m. class actually began at 5:10 for her.
"It was pretty rough in the beginning waking up so early," the biomedical sciences major admitted. "I was not used to it, there was a big learning curve but I would say I am adjusted to it now."
Her spring semester consists of four classes: Spanish, Cellular Biology, Oxygen (chemistry), and Organic Chemistry, which includes a separate laboratory class. She was getting help from her chemistry professor, Dr. Scott Truksa '89, when word came out that the campus would be closed for on-campus learning and students were encouraged to go home if they could.
"It was just stress after that," Suzuki remembered. "Having to pack up all my stuff in a matter of days to come home and then start (online) classes again."
The stress affected everyone. Students had to figure out where they were going to go and how they were going to finish the semester. Meanwhile, the professors and instructors had to deal with a rapidly-evolving situation. Truksa was faced with not only re-configuring science lectures for an online format, but also his chemistry labs which are designed for hands-on participation.
"The rules of the game seemed like they were changing every other day," said Truksa, who has been teaching at the College for over 25 years. "It was a constant problem-solving situation. You have to just move with the water and try to avoid hitting a rock."
Suzuki was able to store most of her belongings at the College before returning home. She considered staying in Idaho with a friend in Meridian to finish the school year. She opted to head home to Hawai'i, though, because she already had a summer internship in place and flights were affordable at that point.
She returned to her parents' home and has stayed immersed in her studies. The time difference is a definite obstacle, she said, and her sleep schedule can get weird. She has a core group of friends from school that she talks to regularly. And she attends her classes.
"I expected, since things were so last-minute, everything was going to be so chaotic," Suzuki said. "But my professors have been really supportive. They were very structured in what they expected from us with online classes. I'm really happy with the way things have turned out."
She plans on attending medical school after completing her undergraduate work at the College and is already actively working toward that goal. Like so many, she's anxious to get back to campus to continue college life.
"I was volunteering at the hospital (St. Alphonsus), I was doing research with Dr. (Luke) Daniels, all that got cut short because of the coronavirus," Suzuki said. "So I'll be very happy to get back to doing those things, to seeing my friends."
And she admitted she'll be happy for another thing when she returns to Caldwell.
"Not waking up super early for classes," she said with a laugh.
The College of Idaho has a 129-year-old legacy of excellence. The College is known for its outstanding academic programs, winning athletics tradition and history of producing successful graduates, including seven Rhodes Scholars, three governors, and countless business leaders and innovators. Its distinctive PEAK Curriculum challenges students to attain competency in the four knowledge peaks of humanities, natural sciences, social sciences and a professional field—empowering them to earn a major and three minors in four years. The College's close-knit, residential campus is located in Caldwell, where its proximity both to Boise and to the world-class outdoor activities of southwest Idaho's mountains and rivers offers unique opportunities for learning beyond the classroom.  For more information, visit www.collegeofidaho.edu.