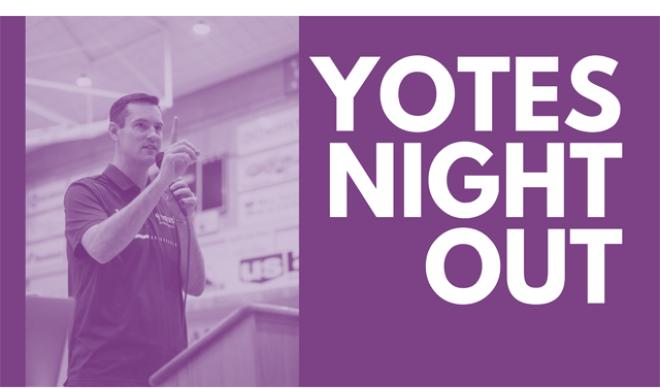 Zac Dean '22 won't be your typical first-time attendee of the 2023 Yotes Night Out event. Yes, he's a first-time alum after graduating with a degree in marketing & digital media last spring, but Dean will be attending the event representing his alma mater as the College's Alumni & Parent Relations Coordinator.
"I've already done Half-Century Society, I've done watch parties for the national championship (men's basketball) team three weeks ago, that was really fun," Dean said of events he's been attending in his new role with the College. "Yotes Night Out is a great way to meet even more people, alumni and friends of the College, than I already have."
Dean has been calling alumni about Yotes Night Out, making sure they were aware of the April 13 event being held at the Zions Bank Building in downtown Boise. Men's basketball coach Colby Blaine is the featured speaker for the event, which is considered a great opportunity for alumni and friends of the College to connect in a semi-formal setting. Registration for the event is available, tickets are $35 per person with young alumni (2012-2022 graduation years) receiving a $5 discount.
The event was held early in the summer last year but returns to its traditional mid-spring timeframe this year.
"It's a way to get as many alumni, friends, faculty, and staff from the College all together," Dean said. "This is really a less-formal version of the Scholarship Gala to get people together and have a great time with the Yotes."
Tickets include heavy appetizers and desserts, as well as one drink ticket per person. Catering will be provided by Wild Plum. A cash bar will also be available. Dress code is cocktail-attire-optional. The event isn't limited to alums. Faculty, staff, and friends of the College are encouraged to attend as well.
For Dean, a recent graduate who played four years of soccer at the College, it's about continuing to meet and engage with members of the community.
"Being in this role, it's a great way to be a part of these events and meet more alumni, meet more friends of the College," Dean said. "Their passion for the College oozes out when you talk about an event like this."
The College of Idaho has a 132-year-old legacy of excellence. The College is known for its outstanding academic programs, winning athletics tradition, and history of producing successful graduates, including eight Rhodes Scholars, three governors, and countless business leaders and innovators. Its distinctive PEAK Curriculum challenges students to attain competency in the four knowledge peaks of humanities, natural sciences, social sciences, and a professional field—empowering them to earn a major and three minors in four years. The College's close-knit, residential campus is located in Caldwell, where its proximity both to Boise and to the world-class outdoor activities of southwest Idaho's mountains and rivers offers unique opportunities for learning beyond the classroom. For more information, visit www.collegeofidaho.edu.