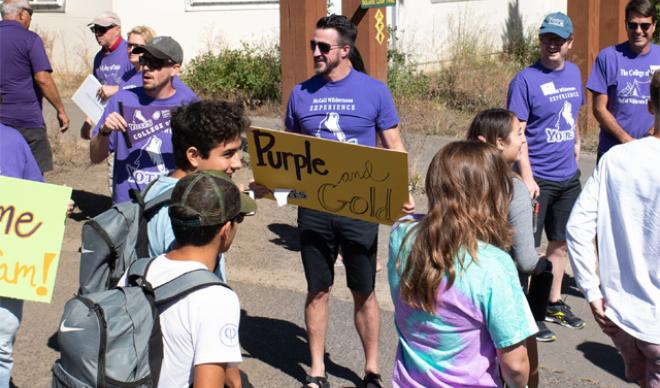 The College of Idaho is proud to recognize the outstanding accomplishments of Vice President of Student Affairs and Dean of Students Paul Bennion, who is the winner of the 2020 NASPA Region 5 Scott Goodnight Award for Outstanding Dean. Bennion will be recognized at the annual regional conference Awards Ceremony, which will be pre-recorded and virtually broadcast on November 10. The Award is given to one dean in the region who has demonstrated "strategic and innovative responses in meeting varied and emerging needs of their campus, merited stature among students, faculty and administrators, effective development of staff members, and collaborative, effective and inspirational leadership on their campus."
To give some context to the gravity of this recognition, Region 5 consists of colleges from Alaska, Washington, Oregon, Idaho, Montana, Nevada, Utah and the Canadian provinces of Alberta and British Columbia. Nearly every institution of Higher Education in the region is a member of NASPA, meaning deans from hundreds of schools in the region were eligible for this award, and Dean Bennion was the sole winner in the region. As such, Bennion will be eligible for the National Dean's Award, which will be announced at the end of 2020.
Bennion's nomination was coordinated by his colleague Kat Coquemont, the Associate Vice President for Student Success at Salt Lake Community College, and included a recommendation by Bennion's colleague Cynthia Mauzerall, the College's director of health and wellness, who has worked with him for 13 years. In her letter, Mauzerall stated "The ability to lift others up and help them see potential in themselves is something Dr. Bennion demonstrates with students and with his staff. He encourages everyone at The College of Idaho to strive for things even if they are unsure if they have all the credentials or documented experience. If there is research to be done, a job role not being filled or an appointment to a critical board position with a higher education entity, Dr. Bennion will encourage students and staff to forge ahead and usually, his belief in others urges them to succeed beyond expectations."
Those who work with him in the Student Affairs division of the College are incredibly proud of his work and inspiration, as he tirelessly leads the division through tumultuous and uncertain circumstances with character and stability. "Paul exemplifies the best of Student Affairs professionals," said Director of Residence Life and Associate Dean of Students Jen Nelson. "He exhibits warm, professional, authentic and intelligent leadership, and he encourages others to lead from their values."
Similarly, the College's leadership team is gratified that Bennion was recognized for his impeccable leadership and was singled out for this honor. "Paul's leadership at The College of Idaho has been extraordinary," said Co-President Jim Everett. "His commitment to student success is inspiring. His is a mentor to all who know him. As co-presidents, who come from outside of academia, Paul has been a tremendous resource and always provides great counsel to us. We are delighted to see Paul win this prestigious and well-deserved honor."
This is the second time in the past 12 months that Bennion has been honored by the National Association of Student Personnel Administrators (NASPA), as he was named one of the 2020 "Pillars of the Profession" back in October of 2019.
Bennion completed his undergraduate degree at Willamette University before getting his master's degree at Boston University. He then earned his Ph.D. from the University of Idaho. He first came to The College of Idaho in 1998 as a Director of the McCain Student Center. Over the years, his work earned him promotions to the interim dean, and then to the full-time Dean of Students before ultimately adding the role of Vice President in 2008 under then-President Bob Hoover.
The College of Idaho has a 129-year-old legacy of excellence. The College is known for its outstanding academic programs, winning athletics tradition and history of producing successful graduates, including seven Rhodes Scholars, three governors, and countless business leaders and innovators. Its distinctive PEAK Curriculum challenges students to attain competency in the four knowledge peaks of humanities, natural sciences, social sciences and a professional field—empowering them to earn a major and three minors in four years. The College's close-knit, residential campus is located in Caldwell, where its proximity both to Boise and to the world-class outdoor activities of southwest Idaho's mountains and rivers offers unique opportunities for learning beyond the classroom. For more information, visit www.collegeofidaho.edu.