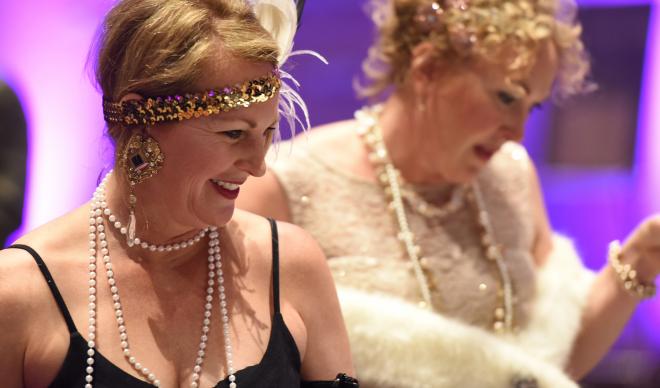 On Feb. 23, 2018, the College of Idaho took a trip to the past with a Roaring 20's themed Scholarship Gala at the Boise Centre in downtown Boise — and in doing so, the College's supporters helped create a bright future for its students.
Thanks to the generous support of the Gala's attendees, the College raised $357,000 to directly benefit the College of Idaho Scholarship Fund — shattering the record set at last year's Gala by 28 percent. On a night of glitz and glamour, the sharply dressed guests proved their generosity was just as fine as their senses of style.
"This year's Gala was an incredible experience because the energy in that room was truly contagious," said C of I Director of Development Jack Cafferty. "To see so many people supporting the College at such a critical time with such positive feelings toward what the College's students are accomplishing…to have this very generous following is a sign that what we do here is worth celebrating and supporting."
The annual Scholarship Gala is one of the College's biggest nights of giving of the year. Alumni, friends and supporters of the College came to enjoy a formal night out, enjoying one another's company as they bid in live and silent auctions, participated in prize raffles, and met with the very students their gifts go on to support.
C of I student Natasha Dacic, a senior mathematics-physics and environmental studies double major, served as the evening's student speaker. Dacic shared her background with the packed crowd of Yote supporters, expressing gratitude for the gifts that helped her become the first member of her family to not only live in the United States, but also attend college.
"If there is one thing I know, it's that because of C of I, I have gained the skills and strengths in order to make an impact in this world," Dacic said. "I want to sincerely thank each and every one of you for helping put students in college and for positively impacting our lives, whether you know it or not."
Since the first Scholarship Gala in 1987, the College has routinely reached new heights in giving at the event, which has now more than doubled since its inception. The College has continued to set new goals for the event, and have often surpassed them thanks to its helpful base of support.
"Not only did we do better than last year's record, we blew it out of the water thanks to everyone's help," Cafferty said. "There's a huge team that puts on the Gala every year, from those of us organizing to those who donate to the cause. We couldn't do it without everyone's help."
The College of Idaho has a 127-year-old legacy of excellence. The C of I is known for its outstanding academic programs, winning athletics tradition and history of producing successful graduates, including seven Rhodes Scholars, three governors, four NFL players and countless business leaders and innovators. Its distinctive PEAK Curriculum challenges students to attain competency in the four knowledge peaks of humanities, natural sciences, social sciences and a professional field—empowering them to earn a major and three minors in four years. The College's close-knit, residential campus is located in Caldwell, where its proximity both to Boise and to the world-class outdoor activities of southwest Idaho's mountains and rivers offers unique opportunities for learning beyond the classroom.  For more information, visit www.collegeofidaho.edu.