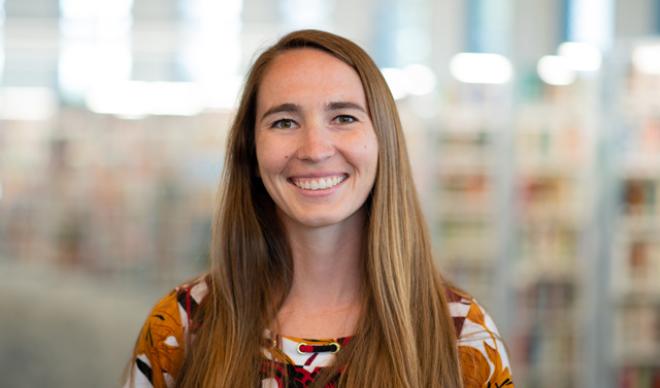 As Megan Null finished her Ph.D. studies at the University of Colorado-Denver, she noticed an opening in the math department at The College of Idaho.
"I took it as a sign and I applied," she laughed.
The sign, as it turned out, was an extensive family history at the College. Though the native of nearby Meridian, Idaho, didn't attend the College, her father (Ron Sorenson '87), uncle (Jim Smutny '86), and aunt (Gayla Smutny '91), along with multiple cousins, are all alumni.
And now Null is in her second year as an assistant professor of mathematics at the College, teaching statistics classes. At one time, statistics was a course that people took on the road to something else. But now, data science and statistics are becoming their own roads, rapidly growing as critical academic fields to prepare students in several walks of life.
"I think it won't be just for math majors or computer science majors," Null said of data-science studies. "Everyone will need to understand how to do these analyses or organize data because so many people are having to use it now."
Finance. Business. Medical sciences. Biology. Physics. Athletics. All of those – and plenty more – are embracing statistics and data science in the employment sector.
"It's so easy to generate data now, then what do we do with all of this data that we have?" Null reasoned for the attention on statistics and data analysis. "We need people to analyze it, to make it useful."
Data science and data analysis are generally "umbrella" terms, whereas statistics is a bit more specialized. Null says data scientists and analysts apply statistical methods, while statisticians are the ones who develop the methods.
"More and more companies are hiring people to help analyze their data," Null said. "Any company that has a lot of data will need to know what to do with it."
She says most colleges and universities have a statistics expert on staff, usually in the mathematics department. Bigger schools usually have more. And people are finding out that statistics aren't solely about math.
"If you understand the statistics, it's data literacy," Null explained. "If you see something on the news, you can think, 'okay, what does that number mean?'"
Put another way, it encourages critical thinking, which is a tenet of the College's educational mindset.
Most students take some sort of statistics course during their time at The College of Idaho. There's no official major or minor at this point for statistics or data science – there is a specialization under the Professional Foundations & Enhancements category of the PEAK curriculum – but exposing students to the methods and processes of data analysis and statistics will help prepare them for their futures after they leave the College. While math is a key component of both statistics and data analysis, Null said they're not exactly interchangeable.
"I have a lot of students tell me, 'I hate math but I love statistics,'" she said. "So it (statistics) can hit a different kind of student."
The College of Idaho has a 130-year-old legacy of excellence. The College is known for its outstanding academic programs, winning athletics tradition, and history of producing successful graduates, including seven Rhodes Scholars, three governors, and countless business leaders and innovators. Its distinctive PEAK Curriculum challenges students to attain competency in the four knowledge peaks of humanities, natural sciences, social sciences, and a professional field—empowering them to earn a major and three minors in four years. The College's close-knit, residential campus is located in Caldwell, where its proximity both to Boise and to the world-class outdoor activities of southwest Idaho's mountains and rivers offers unique opportunities for learning beyond the classroom. For more information, visit www.collegeofidaho.edu.