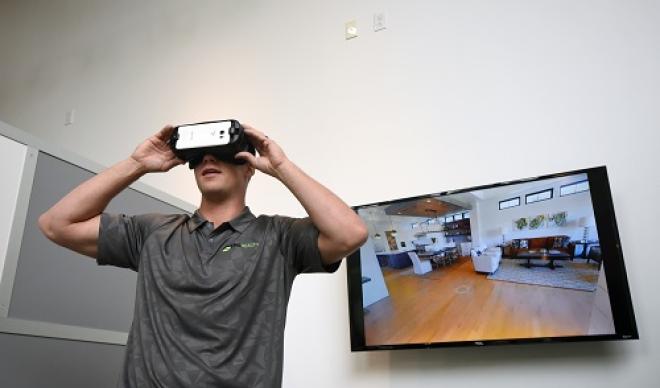 Sheridan Hodson '06 used to sit in his office in Boise's Micron Technology preparing financial models as he listened to the entrepreneurial podcast "This Week in Startups," paying particular attention to the rise of businesses centered in virtual and augmented reality.
Chad McCloud, Hodson's childhood friend, had just returned to his previous career as a real estate agent after eight years in medical sales. Almost a decade after getting his first experience in real estate, McCloud realized not much had changed in the way consumers bought and sold homes.
After Hodson settled back into Boise to start at Micron, the friends met for coffee to catch up and discuss their mutual interest in the use of VR technology. Now, the two have come together to launch a new real estate startup: Epic Realty, which utilizes virtual reality to make it easier than ever to shop for a home.
"It's clear virtual reality is the next step," Hodson said. "What I was trying on the financial side merged with Chad's vision for how VR could make home buying easier, and from there we knew we had something special."
Hodson and McCloud, along with fellow C of I alum Trevor Thomas '17, opened their unique showroom to the public on Oct. 13 at The Village in Meridian, offering the public the opportunity to go on virtual tours of local residential and commercial properties. It is among the first virtual reality showrooms of its kind, allowing prospective home buyers and curious passersby the chance to "walk through" homes and businesses without having to step foot on the property.
"There are so many advantages to this kind of technology," McCloud said. "We're not trying to sell houses sight-unseen, but by being able to look through as many virtual properties as they like, potential buyers can narrow their searches and get important questions answered without having to physically walk through multiple homes per day. It can be tough to remember all those homes in one day, but now you can revisit them as many times as you like."
Within one business day, the Epic Realty team can walk through any home and convert it to a virtual reality render. The team members take multiple 3-D scans of the homes from multiple positions in each room, allowing for a rendering set to scale with how the home looks in person. The company can also develop renderings using schematics and blueprints directly from contractors, adding virtual furniture to create a realistic representation of how the final product will turn out.
The technology is not only good for residential homes, but commercial areas. Since the company's start several months ago, it has provided scans for several local businesses and landmarks, including Payette Brewing Company, Boise's Capitol Building and the Cycle Bar, with more clients waiting in the wings.
"We're trying to involve the community as best as we can," Hodson said. "We're building exposure not just for ourselves, but for all the areas in the community we can highlight. By showing these tours for free, people can experience this technology, and maybe for the younger crowd, that can spark something in their mind the same way it did for us."
The company's C of I roots have been helpful in getting the company to its position today. Hodson said one of Epic Realty's partners, Caldwell optometrist Dr. Will Black, was instrumental in helping Epic Realty secure its Meridian storefront, believing in the company's success through both its technological skill and its roots with the College he has come to support. Although McCloud is not a C of I graduate, both Hodson and Thomas call upon the holistic education they received at the College in dealing with clients and mastering the technology.
"I've been a part of great teams during my time at the College," recent C of I grad Thomas said. "I'm just really fortunate to be a part of another one that is set to do so much good for the local industry."
To learn more about Epic Realty and go on free virtual reality tours of properties around the Treasure Valley, visit their showroom at 3525 E. Longwing Lane #110 in Meridian, Idaho, or visit their website at www.homesbyepic.com.
The College of Idaho has a 125-year-old legacy of excellence. The C of I is known for its outstanding academic programs, winning athletics tradition and history of producing successful graduates, including seven Rhodes Scholars, three governors, four NFL players and countless business leaders and innovators. Its distinctive PEAK Curriculum challenges students to attain competency in the four knowledge peaks of humanities, natural sciences, social sciences and a professional field—empowering them to earn a major and three minors in four years. The College's close-knit, residential campus is located in Caldwell, where its proximity both to Boise and to the world-class outdoor activities of southwest Idaho's mountains and rivers offers unique opportunities for learning beyond the classroom.  For more information, visit www.collegeofidaho.edu.