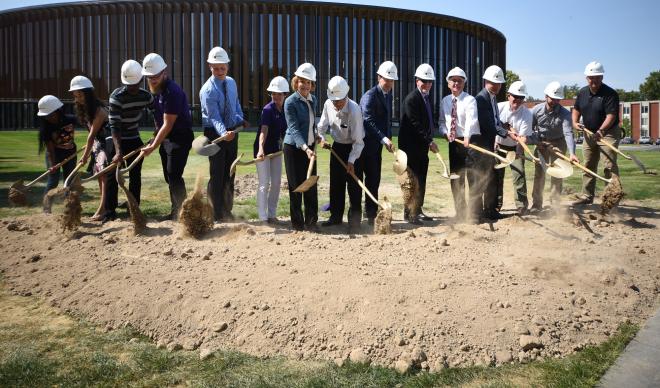 The construction of the Smith Welcoming Arches at The College of Idaho officially began on Thursday, Sept. 6 with the same spirit of welcoming and optimism the arches themselves will soon display.
The sunny afternoon drew a crowd of students, staff, faculty and community members for the arches' groundbreaking ceremony, honoring the $1 million donors Dr. James "Jim" Smith '64 and C of I trustee Mary Smith as well as the arches themselves, and what the project will represent upon their completion to generations of students to come.
"It is my hope that these arches will signal that this College is a special place…a place where you can fulfill your dreams, just as my husband Jim did all those years ago." said Mary Smith before the groundbreaking.
Before he became known as the father of modern cardiology in the state of Idaho, Dr. Jim Smith was a young man from Filer, Idaho with an ambition to be a doctor, determined to complete school despite the recent passing away of his father. In a time of great transition in his life, The College of Idaho proved to be an extension of his family. His professors knew him by name; they cared for his well-being, both in and out of the classroom.
The concept of professors knowing the name of undergraduate students they taught, let alone befriending them away from the academic setting, was something Mary Smith found fascinating. As a student at the University of California-Berkeley, Mary had learned from Nobel Prize winning faculty members, but her experiences at a larger school like Berkeley were different in terms of her interaction with her instructors.
"It's been said that big state universities like Berkeley offer a lot, while smaller schools don't have as much to offer," Mary said. "I think these arches will help the world see that this place is worth preserving."
Jim and Mary Smith, who previously donated $1 million to the College in 2012 to help complete the second phase of renovations at Boone Science Hall, donated another $1 million for the Welcome Arches, inspired in part by the Sather Gate at UC-Berkeley, which the Smiths hope will foster a similar sense of welcoming and encouragement to any who pass beneath them.
The Smiths were joined in the ceremonial groundbreaking by several College and community leaders, including C of I co-presidents Jim Everett and Doug Brigham, Caldwell Mayor Garret Nancolas, C of I VP for Finance and Administration Richard Erne, C of I Biology Professor Ann Koga, Kreizenbeck Constructors Vice President Joseph Saucerman, Erstad Architects Senior Architect Tom Lennon and Landscape Architect Christopher Hawkins of The Land Group, Inc.
The groundbreaking also included a contingent of student leaders, including C of I Student Body President Drake Kuykendall, International Student Organization President Irvin Brown, Student Ambassador Mwabi Chipeta, and Shanaya Fox and Don Shaw, who enjoyed lunch with the Smiths earlier in the day.
Everett said the drive of the Smiths to give in the ways they have to the College can serve as an inspiring message to current students.
"The Smiths are betting on you and your success," Everett said to the students in attendance. "When you're in a position to give back, I hope you remember the Smiths and all the other people who have been able to support you along the way."
The construction of the Welcome Arches is set to be completed before the end of 2018.
The College of Idaho has a 127-year-old legacy of excellence. The C of I is known for its outstanding academic programs, winning athletics tradition and history of producing successful graduates, including seven Rhodes Scholars, three governors, and countless business leaders and innovators. Its distinctive PEAK Curriculum challenges students to attain competency in the four knowledge peaks of humanities, natural sciences, social sciences and a professional field—empowering them to earn a major and three minors in four years. The College's close-knit, residential campus is located in Caldwell, where its proximity both to Boise and to the world-class outdoor activities of southwest Idaho's mountains and rivers offers unique opportunities for learning beyond the classroom.  For more information, visit www.collegeofidaho.edu.