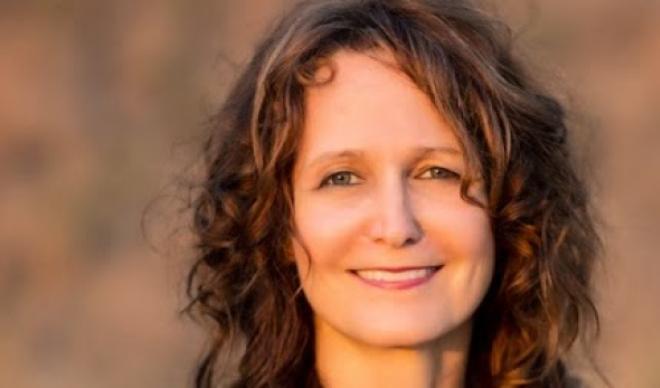 College of Idaho English Professor Diane Raptosh has received numerous accolades across her prestigious career in the literary arts, including a stint as Idaho's Writer-in-Residence, Boise's first Poet Laureate, and a longlist nominee for the 2013 National Book Award for "American Amnesiac," one of her five collections of published poetry.
Now, the C of I alumna has another honor to add to her list: a 2018 recipient of the Governor's Award in the Arts, a biannual celebration of Idaho's outstanding contributors to the art world. When asked about her reaction upon hearing the announcement of her selection, she humbly chose two words: pride and gratitude.
"If I could choose a third word, it would be 'honored," Raptosh said. "Writing is often about sitting at a table and working hard at your craft. To receive such honors for it is just icing on the cake, and this award is a very nice flavor of icing."
Raptosh is one of two recipients of the "Excellence in the Arts" award. She and the other Governor's Award recipients will be honored by Idaho Gov. Butch Otter at a public ceremony at 1:30 p.m. on Nov. 8 at Boise's Capitol Rotunda.
Raptosh, who graduated from the C of I in 1983 and returned to the C of I as an instructor in 1991, said what most excited her about being among the Governor's Award winners was being honored among artists across several mediums, not just writing.
"The multi-disciplinary range of this particular award is part of what makes this honor so special," Raptosh said. "Although the award may seem regional, the work of Idaho artists goes beyond just the state. Yes, we represent Idaho, but what we have to offer goes beyond just our borders. At a time when things at the national level are so fraught, it's good to have art speak to the issues we face."
Currently on sabbatical from instruction, Raptosh is spending the school year working on her next collection of poetry, "Dear Z: The Zygote Epistles," in which the speaker in her poetry informs a zygote about the high points and the perils of life as they may come to know it.
"It's been good to have extra daydreaming time," Raptosh said. "It's been good for the imagination. But I am looking forward to getting back to the classroom. I'll always miss teaching."
To learn more about Raptosh's work, visit https://www.dianeraptosh.com/index.php.
The College of Idaho has a 127-year-old legacy of excellence. The C of I is known for its outstanding academic programs, winning athletics tradition and history of producing successful graduates, including seven Rhodes Scholars, three governors, and countless business leaders and innovators. Its distinctive PEAK Curriculum challenges students to attain competency in the four knowledge peaks of humanities, natural sciences, social sciences and a professional field—empowering them to earn a major and three minors in four years. The College's close-knit, residential campus is located in Caldwell, where its proximity both to Boise and to the world-class outdoor activities of southwest Idaho's mountains and rivers offers unique opportunities for learning beyond the classroom.  For more information, visit www.collegeofidaho.edu.