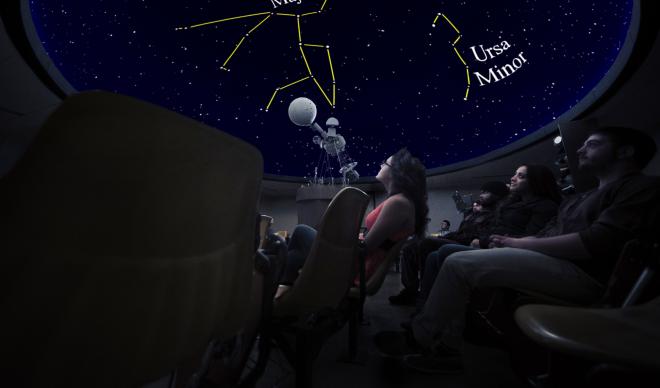 The College of Idaho's Whittenberger Planetarium will welcome back its "starry-telling" bard Jim Cogan for its next public show, "Storytelling in the Planetarium," which will be held at 7 p.m. on Wednesday, Oct. 10.
Cogan, a professional story teller, will share a variety of stories about the night sky, sharing multiple cultures' takes on the constellations, planets and moon alongside planetarium director Amy Truksa. This regular event has featured stories passed down from Greek, Roman, German, Native American, Chinese, and Pacific Island mythologies.
Cogan began his storytelling as a history teacher at Jefferson Junior High School in Caldwell in the late 1970s. After several years as a teacher and administrator in Ketchum, Idaho, Cogan became a professional bard, traveling throughout the U.S. as a highly acclaimed family programmer, entertainer and educator.
"I like that Jim selects stories from a variety of cultures from around the world because it helps communicate the universality of the concept of constellations and mythologies surrounding them," Truksa said.
Tickets for the show cost $8 for adults and $5 for children between the ages of 4-17. Children below the age of four are discouraged from attending. Visitors should arrive at least ten minutes prior to the show's beginning due to limited seating and should purchase tickets in advance at https://www.collegeofidaho.edu/about/campus-facilities/planetarium.
The Whittenberger Planetarium is located in Boone Hall on The College of Idaho campus near Jewett Auditorium on the corner of 20th Ave. and Fillmore St. in Caldwell.
The College of Idaho has a 127-year-old legacy of excellence. The C of I is known for its outstanding academic programs, winning athletics tradition and history of producing successful graduates, including seven Rhodes Scholars, three governors, and countless business leaders and innovators. Its distinctive PEAK Curriculum challenges students to attain competency in the four knowledge peaks of humanities, natural sciences, social sciences and a professional field—empowering them to earn a major and three minors in four years. The College's close-knit, residential campus is located in Caldwell, where its proximity both to Boise and to the world-class outdoor activities of southwest Idaho's mountains and rivers offers unique opportunities for learning beyond the classroom.  For more information, visit www.collegeofidaho.edu.