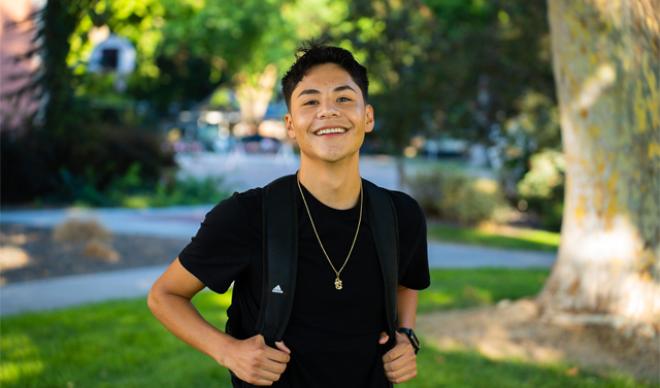 At about 8:30 on Wednesday morning, Marco Ceballos sat out in front of Hayman Hall, preparing for his first official class as a college student. He doesn't have too far to go – Theatre Appreciation in the Langroise Studio Theatre at 9:00 with Deb Hartwell, maybe 100 yards away.
"After that, I have western civilization, then business computer applications, and then first-year seminar," Ceballos said. "Four classes today."
Despite the full day, Ceballos, a graduate of Payette High School, was ready and anxious to get started.
"Lots of nerves," he laughed. "Lots of excitement."
Ceballos is part of the incoming freshman class at The College of Idaho. He's the youngest of three kids, but the first to attend college.
"It's always been my personal goal," Ceballos said. "It's been great to have my parents and siblings support me and my goal."
The aspiring business major is a recipient of the McCain Family Scholarship, awarded to two students from the west end of the Boise valley each year who demonstrate high academic achievement as well as a demonstrated financial need. The scholarship is a full-tuition, four-year award which is vetted and judged by a committee prior to being announced. Ceballos received a visit at his school last spring with the good news.
"When I said I was from The College of Idaho and introduced myself in person, he instantly knew why I was there," recalled Paloma Magaña '17, the assistant director of admission for the College. "After I congratulated him and let him know he was receiving the scholarship, he asked if he could call his mom. It was definitely one of my favorite moments of the school year. He said to his mom, 'I am in the counseling office, I'm not in trouble! Guess why I am calling you?' With no hesitation, she yelled out, loud enough for the room to hear, and said, 'Scholarship!' It was such a special moment, and everyone in the room was crying and celebrating him."
"Being able to hear I received the scholarship, it made her so happy," Ceballos said with a smile. "That's what she has always wanted for me."
Ceballos has been on campus for over a week as part of an acclimation program called Summer Bridge. It allows students to arrive early, meet with professors and staff, and prepare for life on campus. His father has worked for years in a distribution warehouse and his mother is an accomplished baker who works at home. Being able to attend a college close to home, close to his parents and siblings, was important and earning the McCain Family Scholarship made it possible.
"Being able to prove that I deserve to be here and that I belong here is amazing," he said. "They (his parents) didn't have the same opportunities. So for them to see me get these (opportunities) and take advantage of them is what they've always wanted for me."
He has barely stopped smiling since arriving on campus. His dorm room in Hayman Hall, the meals at Simplot Dining Hall, even his proximity to Cruzen-Murray Library, he says it has all been wonderful. But even simpler than that, the College's community has been the highlight for Ceballos.
"Meeting new people," he said. "Being able to talk to new people every day has been really great."
The College of Idaho has a 131-year-old legacy of excellence. The College is known for its outstanding academic programs, winning athletics tradition, and history of producing successful graduates, including seven Rhodes Scholars, three governors, and countless business leaders and innovators. Its distinctive PEAK Curriculum challenges students to attain competency in the four knowledge peaks of humanities, natural sciences, social sciences, and a professional field—empowering them to earn a major and three minors in four years. The College's close-knit, residential campus is located in Caldwell, where its proximity both to Boise and to the world-class outdoor activities of southwest Idaho's mountains and rivers offers unique opportunities for learning beyond the classroom. For more information, visit www.collegeofidaho.edu.