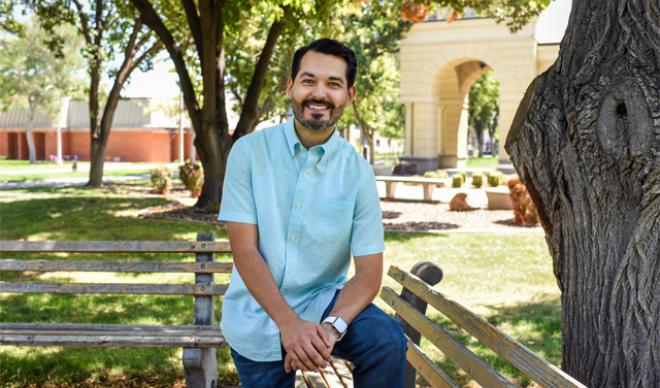 Arnoldo Hernandez, Assistant Dean and Director of Inclusion and Intercultural Engagement (IIE) would like to announce the following news:
The IIE and C of I campus community have had the pleasure of benefiting from the work of Adan De La Paz '03. His vision, leadership, and counsel on matters related to diversity, equity, and inclusion (DEI) and creating an environment of Inclusive Excellence is remarkable.  He consistently promotes a culture of understanding and belonging as we continue to build on department accomplishments. 
For this reason, I share with great enthusiasm that Adan has been selected to present at two international conferences this March and June.  The Global Citizen Forum, co-hosted by Drake University and the University of KwaZulu-Natal in South Africa, and the NAFSA: Association of International Educators Annual Conference have chosen him to share his work on the topics of the intersection between intercultural development and DEI, and advocacy of underrepresented domestic and international students in higher education.
"Presenting at these two highly established conferences in my field is such an honor," De La Paz said. "It validates the work I've put into my RISE Fellowship investigations centered on blurring the lines between domestic and international audiences with respect to interculturality and DEI."
To learn more about the College's Office of Inclusion and Intercultural Engagement, please click here. And to learn more about De La Paz's RISE Fellowship, please click here.
The College of Idaho has a 130-year-old legacy of excellence. The College is known for its outstanding academic programs, winning athletics tradition, and history of producing successful graduates, including seven Rhodes Scholars, three governors, and countless business leaders and innovators. Its distinctive PEAK Curriculum challenges students to attain competency in the four knowledge peaks of humanities, natural sciences, social sciences, and a professional field—empowering them to earn a major and three minors in four years. The College's close-knit, residential campus is located in Caldwell, where its proximity both to Boise and to the world-class outdoor activities of southwest Idaho's mountains and rivers offers unique opportunities for learning beyond the classroom. For more information, visit www.collegeofidaho.edu.