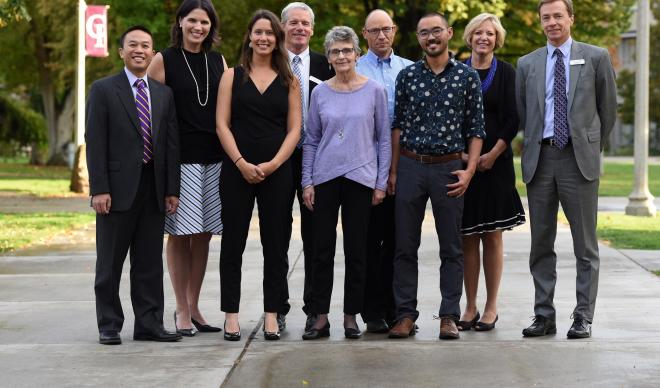 The downpour of rain in Caldwell wasn't enough to dampen a spirited start to The College of Idaho's 2018 Homecoming and Family Weekend, which began its exciting schedule of events by recognizing the 2018 recipients of the College's Distinguished Alumni Awards on the evening of Oct. 4, 2018.
Four of this year's five award recipients accepted their honors in person at the evening's Distinguished Alumni Awards Dinner, including Young Alumni Award winner Amanda Frickle '12, Alumni Service Award winner Brie Stoianoff '00, Distinguished Alumni Award winner Kris Komori '05, and Family Heritage Award winners the Shotwell/Cates Family, accepted by Evelyn Shotwell Cates '61. Distinguished Alumni Award winner Dr. David Martin '86, current Director of Performance Research and Development for the Philadelphia 76ers, was unable to attend.
After accepting their awards, the recipients shared thought-provoking "TED"-style talks, speaking about their respective areas of expertise, from the personal nature of politics, the importance of goal setting, and how the liberal arts can contribute in areas that may not be expected.
"It's wonderful to be back where it all started for me," Frickle said. "The College has given me an incredible number of opportunities and set me up for the successes I've had since graduating. Now that I've seen more of the world, coming back is a reminder of how great we've all had it here."
Frickle, the College's first female Rhodes Scholar, applied the leadership experiences she honed as an undergraduate at the C of I into her current work in her home state of Montana, where she serves as the current Executive Director of the Montana Democratic Legislative Campaign Committee. A mere three days after returning to Montana following the completion of her master's degree in women's studies at the University of Oxford, Frickle found herself immediately engaging in state politics and working on campaigns, something she said she quickly fell in love with.
"I didn't necessarily envision myself falling into this right away, but when it comes to making an impact, I've really enjoyed how I've been able to help my state," Frickle said. "Policy can be like a big chessboard sometimes, with a lot of pieces getting moved around at once. Everyone gets hyped up about the federal issues, but I think the smaller scale of hyper-local and state politics can get overlooked."
Stoianoff, currently Director of Quality and Service Assurance of The FDA Group in the Portland, Oregon area, was recognized primarily for her philanthropic and service work with the National MS Society, for which she has been a prolific fundraiser. Inspired to get involved with the fight against multiple sclerosis after her daughter's father was diagnosed with the disease, Stoianoff has personally raised over $245,000 to fund research and treatment options. She is also an active member of the Women's Foundation of Oregon and a regular volunteer at her daughter's elementary school.
"I was a Boone Hall person when I was student here on campus," Stoianoff explained. "I know exactly how research can help improve the quality of life of others. I've been lucky to have the skill set to give back, and I'm very honored to be among the great caliber of people who have also been recognized."
Komori, most recently chef de cuisine at Boise's State & Lemp, has been called "the rock star of Idaho's chef world" by the Idaho Statesman following his third straight nomination for Best Chef in the Northwest by the James Beard Foundation this year. Komori, however, said the recognition, while exciting, can be embarrassing sometimes, noting that his team at State & Lemp has worked equally as hard to receive the national attention. As Komori and his previous State & Lemp aim to open a new location, KIN, sometime in 2019, Komori said the Distinguished Alumni Award has given him a reason to step back and reflect on his journey so far.
"Not all line cooks have a traditional path forward, and mine hasn't been any different," Komori said. "This has been a major journey, from starting as a dishwasher back in college to managing my own team now and getting into the ownership side of the restaurant business. This honor is making me really see how far I've come."
The Shotwell/Cates Family has seen 18 of its extended family members pass through the C of I since the 1920s, starting with Lois and Margaret Shotwell, and several have continued service with the College well past their graduation dates. Evelyn Shotwell Cates and her cousin, Ann Ritter '68, spoke about how the College has been like a second-home to their family over the decades.
"The liberal arts can take you to so many different places," said Shotwell Cates. "Even just among the 18 of us, we represent such a wide array of disciplines. We have the College to thank, and we're so proud of where we've come from."
Full profiles for each recipient, including a full Q&A with David Martin, are available to read for free in the most recent edition of the C of I's Quest magazine, which may be accessed here.