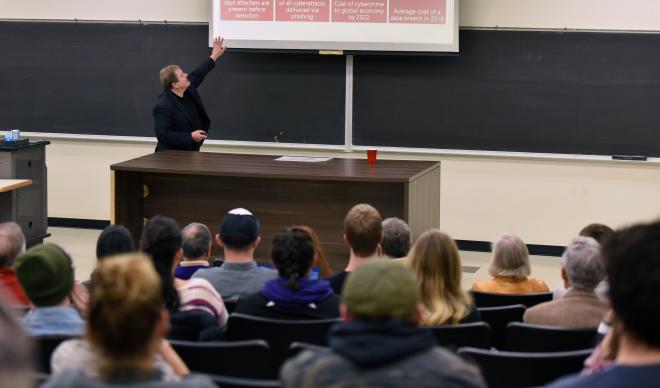 With the opening of a new Student Research Room in the basement of Boone Hall, The College of Idaho's Department of Mathematics and Physical Sciences (MAPS) welcomed back emeritus faculty members and successful alumni of the program to celebrate the occasion with an open house reception and colloquium talk.
"This has all been brought about by the alumni who have donated to the College to make this possible," said Dr. Robin Cruz, a math professor at the C of I. "You'll be able to see the benefit that this will have to our current students. We have an appreciation for all the alumni here who have worked to make this happen."
The new Student Research Room features a wide open common area for students to congregate in comfort as they work on their projects, including whiteboards, couches, open countertops and several computers, allowing for a wide range of utility for any field of study.
Before the opening reception for the room, several dozen C of I students, staff, faculty and emeritus faculty packed into the lecture hall of Boone 103 to attend a presentation given by Bret Arsenault '87, who currently works as Corporate Vice President and Chief Information Security Officer at Microsoft. Between playful quips at the expense of chemistry students (which he joked was a "soft science") and self-deprecating references to his time as an underachieving undergraduate at the C of I, Arsenault held the audience's attention on his presentation topic of cybersecurity.
"You can't protect against today's threats with yesterday's technology," Arsenault said. "Cybersecurity is one big balancing act, and risk management is its foundation."
Arsenault's presentation focused on his career as Microsoft's top security executive, remarking on his experiences in the expanding field of cybersecurity and how hackers aim to disrupt the online sphere for personal gain, from identity theft to the disruption of political opponents. While Arsenault noted the high stakes in cybercrime, which he said will cost a loss of $8 trillion to the global economy by 2022, he also noted the high growth of the industry, which he said will have 1.5 million unfilled positions by 2020.
"You don't have to be in math to think about being part of this," Arsenault encouraged the students in attendance. "Even if a background in math and computers helps, it's not something you need to get into this kind of business."
The reception also served as a celebration of emeritus faculty members Roger and Mary Higdem, who were each recognized for the legacy they contributed to the College. Roger Higdem was a professor of mathematics at the College from 1959-1999, retiring as the head of the department. His wife Mary was a lecturer in geology in 1982, but remained connected with the College through Roger's long-time service to the mathematics department.
The Higdems were celebrated following Arsenault's lecture at the research room's open house, complete with a birthday cake for Roger's 84th birthday.
"It's important to surround yourself with people who are greater and better than you," Arsenault said about Roger Higdem, who he called his favorite professor. "[Roger] showed me ways to think that I wouldn't have experienced if I went anywhere else."
The College of Idaho has a 125-year-old legacy of excellence. The C of I is known for its outstanding academic programs, winning athletics tradition and history of producing successful graduates, including seven Rhodes Scholars, three governors, four NFL players and countless business leaders and innovators. Its distinctive PEAK Curriculum challenges students to attain competency in the four knowledge peaks of humanities, natural sciences, social sciences and a professional field—empowering them to earn a major and three minors in four years. The College's close-knit, residential campus is located in Caldwell, where its proximity both to Boise and to the world-class outdoor activities of southwest Idaho's mountains and rivers offers unique opportunities for learning beyond the classroom.  For more information, visit www.collegeofidaho.edu.