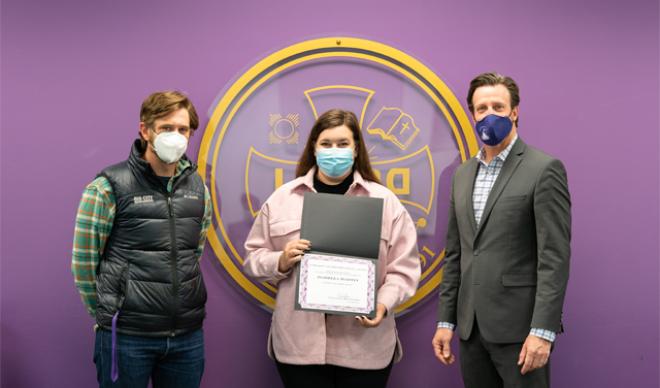 Bella Martin is the Integrity, Leadership, and Service Award winner for Fall 2021 at The College of Idaho.
Martin is a senior who is double-majoring in environmental studies and biology.
"Being honored with this award is representative of how hard I work in this community to lead and better the spaces around me through my interactions. The award is also representative of the people who have helped to mentor me in my different spaces on campus, the ways in which they have pushed me, reflected with me and helped me to reach my goals," said Martin. "I am grateful that people around me have noticed the work I have put into College of Idaho to make every space I enter welcoming, motivated and reflective. I am appreciative to be a part of this community and look forward to seeing what the rest of my senior year brings."
The Student Affairs Division recognizes one student each semester for their important contributions to the College's culture. The award is given to students nominated by staff and faculty as someone who best embodies the values of the College community. Those values include community, integrity, leadership, and service. Martin was nominated by Bix Firer of the College's Outdoor Program.
"Her personal connection with OP participants has invited a new generation of trip leaders into the program. Bella's service to her community is also shown through her devotion to her work as an RA and now Hall Director in Residence Life," Firer said in his nomination. "Bella has been a leader in the campus community, a constant presence, and intellectually keen contributor to campus events. Bella is an outstanding example of Integrity, Leadership, and Service on campus."
The College of Idaho has a 130-year-old legacy of excellence. The College is known for its outstanding academic programs, winning athletics tradition, and history of producing successful graduates, including seven Rhodes Scholars, three governors, and countless business leaders and innovators. Its distinctive PEAK Curriculum challenges students to attain competency in the four knowledge peaks of humanities, natural sciences, social sciences, and a professional field—empowering them to earn a major and three minors in four years. The College's close-knit, residential campus is located in Caldwell, where its proximity both to Boise and to the world-class outdoor activities of southwest Idaho's mountains and rivers offers unique opportunities for learning beyond the classroom. For more information, visit www.collegeofidaho.edu.