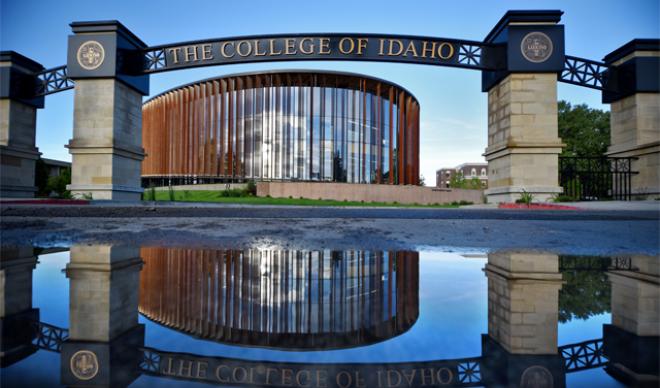 The College of Idaho has earned it's first-ever No. 1 national ranking in the prestigious U.S. News & World Report Best College Rankings for 2021. The College is named the No. 1 school for Top Performers on Social Mobility among all National Liberal Arts Colleges, one year after being ranked No. 4 in the same category.
Social Mobility is generally defined as upward movement of students and graduates from one socioeconomic status to another. The ranking evaluates which schools best serve underrepresented students. U.S. News & World Report's Best College Rankings are widely regarded as the gold standard of college rankings.
"The College of Idaho has a long history of attracting high potential students with high financial need and providing them with the opportunity to receive a world-class education," Co-President Jim Everett said. "With the help of a great faculty, they are successful at a higher rate than any other liberal arts school in the country."
The social mobility rankings are determined in part by how well schools graduate students who receive federal Pell Grants (those typically coming from households whose family incomes are less than $50,000 annually, though most Pell Grant money goes to students with a total family income below $20,000). When Social Mobility Rankings were first released last year, the Baltimore Sun reported that the rankings are important because "students from economically disadvantaged backgrounds are less likely to graduate college than other students."
Additionally, U.S. News & World Report ranking expert Robert Morse told the Chronical of Higher Education, "A university is not successful if it does not graduate its students. By including social mobility indicators, U.S. News is further recognizing colleges that serve all of their students, regardless of economic status."
"Be they rural or urban, domestic or international, students find a calling and a purpose and a lasting gratitude that drives them to want to create similar opportunities for others," Everett said. "There is no ranking we could find more meaningful than to know we are helping students who have historically not had the same access to higher education to become leaders in health care, business, education, nonprofits, law, public service and more, and to lead such fulfilling lives. Inevitably, these students are committed to paying it forward to provide others with the opportunities they are grateful to have received."
In addition to the top national recognition, the College continues to make a major impression in the rankings as it is ranked No. 120 on the list of "Best National Liberal Arts Colleges." Just three years ago, the College was ranked No. 168.
The College of Idaho also moved up in the national ranking in the web-exclusive category of 2021 Schools with the Most International Students. The College ranks No. 12 among all national liberal arts colleges with 18-percent of its student body from outside of the United States. Last year, the College had 88 countries outside of the United States represented on its campus. With the new 2020-2021 class currently enrolled at the College, the number of countries represented has risen to 93.
"Fifteen years ago The College of Idaho had 12 international students from 10 countries, which represented 1.5-percent of the student body," Vice President of Enrollment Management Brian Bava said. "The growth that has taken place in the last decade and a half is a testament to the commitment the College has made to bringing the world to its Caldwell campus, and providing a diverse educational experience for its students. Many of our international students attend the College 'sight unseen,' so this exponential increase also speaks to their trust in the admission office and their peers who have attended before them. I couldn't be more proud of this accomplishment."
The College's national accolades continue to grow. Among the recent notables:
Top-300 college/university for 2021 (Fiske Guide to Colleges)
Idaho's top college/university for job placement (Zippia)
"Best in the West" acknowledgment in regional breakdown (Princeton Review)

2020 Best Value College (Best Value Colleges)

A national and northwest "Hidden Gem" (College Raptor)

No. 19 Best Colleges for the Money Nationwide (College Factual)
The Wall Street Journal also continues to rank The College of Idaho as the No. 1 College in Idaho. A full list of the College's recent accolades can be found here.
The College of Idaho has a 129-year-old legacy of excellence. The C of I is known for its outstanding academic programs, winning athletics tradition and history of producing successful graduates, including seven Rhodes Scholars, three governors, and countless business leaders and innovators. Its distinctive PEAK Curriculum challenges students to attain competency in the four knowledge peaks of humanities, natural sciences, social sciences and a professional field—empowering them to earn a major and three minors in four years. The College's close-knit, residential campus is located in Caldwell, where its proximity both to Boise and to the world-class outdoor activities of southwest Idaho's mountains and rivers offers unique opportunities for learning beyond the classroom. For more information, visit www.collegeofidaho.edu.