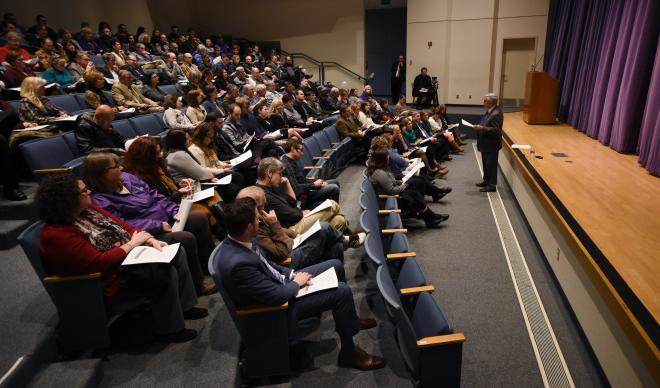 College of Idaho Interim President Dr. Bob Hoover sat comfortably on the side of the stage in the Langroise Recital Hall, casually facing the packed house of staff, faculty, administration and trustees who had come to hear him deliver his State of the College address. Although a podium had been placed on the stage for Hoover's use, he preferred the freedom to stand away from it, choosing instead to address the audience as he would have addressed students attending one of his lectures.
The audience had gathered to hear from Hoover about the direction of the College's future in the midst of increasing expenses and a decline in enrollment since Fall 2014. Hoover's address sought to reassure both the attendees as well as those watching the event over Facebook Live that the future was still positive despite the challenges the College has faced in recent years.
"Today is about getting a sense of the current situation as things evolve," Hoover said at the start of his address. "This place still has a great future, but financial stability needs to be the name of the game."
Hoover acknowledged the ways the College's financial situation had faltered in recent years, noting the steady increase in total expenses caused in part by a growth in staff and faculty positions had routinely outstripped the College's total revenue since 2014, causing the College to significantly overdraw from its endowment. Hoover also acknowledged the additional costs that had been incurred through the College's previous strategy in offering $5,000 annual stipends to out-of-state students to encourage their enrollment at the College.
However, Hoover said the current situation did not constitute a crisis, harkening back to a previous financial strain on the College between 2001 and 2002, which was characterized by a 27 percent freefall in the stock market and the sharp decrease in enrollment that followed.
"The short answer is our structural deficits are not good, but not remotely close to what we saw between 2001 and 2002," Hoover said.
Hoover said actions were already being taken to address overspending, including a short-term hiring freeze for staff and non-essential faculty positions and a decrease in department budgets across the board. He also revealed a recommendation to rescind annual stipends for future out-of-state students as another cost-saving measure.
However, Hoover said the key component in helping the College's long-term financial stability would be the attraction of new students and an increase in enrollment back to its 2014 state of 1,113 students — a figure that has since decreased to 961. In particular, he suggested the College must focus its energy into recuperating its base of native Idaho students, which was at 266 fewer students in Fall 2017 than its high point of 855 in Fall 2013. 
"The College has been known for generations as home for Idaho's best students," Hoover said. "We need to look closely at attracting those high achieving students and offer them greater rewards for attending."
The College announced the return of the prestigious Heritage Scholarship last fall as part of its plan to develop interest among Idaho students, and Hoover said the addition of specific master's level programs for graduate level students could also play a role in increasing student retention, particular for larger academic departments.
Hoover said the College's ongoing enrollment strategy should also work to attract untapped groups that could continue to benefit the College's numbers, including working relationships with Idaho community colleges to accept transfer students, renewed interest in attracting military veterans, and continuing to maintain and grow the College's significant number of international students.
"During my first time as president here, student diversity on this campus has increased significantly," Hoover said. "This isn't just a fabulous thing for education, but also for our community."
Hoover reassured the attendees that the vision for the College's growth remained clear, and said the arrival of a new president would allow for the College to continue on course for a future that projects more than 1,200 students.
"If we execute our strategy, the College can be as successful as it has been over the last 25 years," he said.
The College of Idaho has a 125-year-old legacy of excellence. The C of I is known for its outstanding academic programs, winning athletics tradition and history of producing successful graduates, including seven Rhodes Scholars, three governors, four NFL players and countless business leaders and innovators. Its distinctive PEAK Curriculum challenges students to attain competency in the four knowledge peaks of humanities, natural sciences, social sciences and a professional field—empowering them to earn a major and three minors in four years. The College's close-knit, residential campus is located in Caldwell, where its proximity both to Boise and to the world-class outdoor activities of southwest Idaho's mountains and rivers offers unique opportunities for learning beyond the classroom.  For more information, visit www.collegeofidaho.edu.