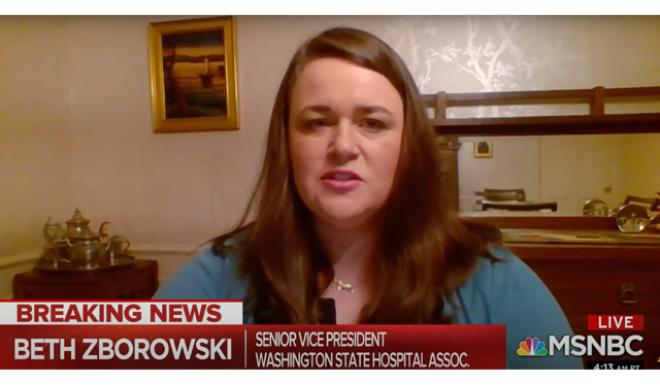 This story is included in the most-recent issue of Quest Magazine, the College's twice-yearly Alumni publication. To view the entire issue online, or to view longer-form "Quest Extra" pieces, click here.
Testing stations in Washington's Puget Sound region. Engineering stations in Dallas, Texas. A biotechnical firm in Galveston, Texas. Inquiries from newsrooms across the country. The fight against the COVID-19 pandemic is taking place in battlefields of many forms, and College of Idaho alumni around the United States have found themselves on the front line against the disease, using their talents and skills to help inform the public and keep their friends and families safe.
"This is a disaster that just keeps on going," said Dr. John Osborn '79, an emergency room physician in Seattle and leader of the Vashon Medical Reserve Corps. "I've encouraged the volunteers I work with to think of this as a marathon, not a 100-yard dash. We need to pace ourselves for what could be a very long, essential effort."
"And then came COVID"
After he retired from full-time practice in Spokane, Washington, Osborn and his wife relocated to Vashon Island, a community of just over 10,000 people between Seattle and Tacoma. A specialist in internal medicine, Osborn was recruited to lead the Vashon Medical Reserve Corps (MRC), an all-volunteer force of health care professionals who are organized to support their communities in times of disaster. Osborn's efforts with the MRC included preparing for disasters like earthquakes and forest fires.
"And then came COVID," Osborn reflected.
Osborn saw his first suspected COVID-positive patient in a Seattle emergency room near the end of February and was immediately struck with thoughts of how much trouble Americans would soon face. There were few immediate resources for testing, limiting his abilities to accurately diagnose the respiratory ailments he began to see daily.
"A wisdom in medicine that guides my work: diagnosis is the first step to treatment," Osborn said. "If you cannot diagnose, then you cannot intervene to treat."
Osborn used this wisdom to help mobilize the Vashon MRC in establishing the Rural Test & Trace Toolkit, a coronavirus response plan that can be replicated as a guideline for testing and treatment in similar rural and tribal communities across the United States. Initially performing a few tests each week in Vashon, Osborn's MRC has since increased its test load to nearly 30 tests each day.
Osborn is also quick to sound the alarm about the mental health ramifications COVID will have on similarly sized communities, noting the increased challenges smaller communities have in receiving adequate resources for suicide prevention and substance abuse at a time when isolation brings renewed challenges to mental health care. Along with the Rural Test & Trace Toolkit, he also helped establish a Community Care Team Toolkit that can be utilized by smaller communities in the same way to help treat mental health as well as physical health.
"A sense of urgency"
Beth Zborowski '02, Senior Vice President of Membership Engagement and Communications for the Washington State Hospital Association (WSHA), was visiting her in-laws in Meridian, Idaho, when she received a call about the first two confirmed COVID-19 cases in Seattle. It was the start of what she now calls the most important work she'll ever do: keeping the public informed about Washington's COVID response.
"There was a huge sense of urgency," Zborowski said. "It wasn't like a hurricane or an earthquake – we could see it coming and had been keeping track of how it was developing – but I don't think we had ever been faced with such a demand before."
Zborowski served as a regular spokesperson for WSHA, and she said she knew the nation's eyes were on Washington in the initial days of the pandemic as the state became America's first hot spot for the virus. She fielded dozens of news inquiries each day, including some from national media representatives, and worked for weeks without any substantial time off.
"At the beginning, we were the first," Zborowski said. "Everybody was looking to us for what the experience was, what the impact was on all kinds of things."
As the pandemic has gone on, Zborowski and her team have begun taking a more proactive approach to covering the pandemic, continuing to advocate for government support of Washington hospitals while undertaking a statewide media campaign informing Washington locals about hospital responses to the virus and their capabilities to continue treating non-COVID illnesses.
"As this crisis has continued and grown and become national with huge waves of cases, our priority too is that Washington isn't forgotten," she said.
"Continue the effort"
Meanwhile, in Texas two College of Idaho alumni are providing potential lab-based solutions to help aid in the fight against COVID-19.
Alexander Wirtz '16 began working for Abbott Laboratories in Dallas in the fall of 2019 as a manufacturing engineer and supervisor, working with a team of 40 technicians on Abbott's ALINITY i system, which is designed to process a large number of patient blood samples over a short but efficient amount of time. Although work on the system began not long before Wirtz joined the company, COVID-19 pushed the need for more of it to the forefront, as Abbott had developed a rapid test for COVID antibodies to run on the system. Wirtz now works with his technicians to expand production, sending devices around the globe to handle approximately 30 million antibody tests around the world. In recent weeks, Wirtz and his team are working on the production of Abbott's BinaxNOW rapid COVID-19 test, producing nearly 1-million tests a day to ship out to the country.
​"It's hard to see an end in sight," Wirtz said. "The numbers only get larger, so I'm continuing to provide my engineering support and management abilities to help continue the necessary production of this medical device during the pandemic. I plan to continue the effort here at Abbott and will continue to support Abbott in future projects we have planned as the pandemic dies down."
Meanwhile, Dr. Darrell Carney '70, CEO of Chrysalis BioTherapeutics, Inc., in Galveston and former member of the College's Board of Trustees, is seeing a drug he developed be explored as a possible therapeutic treatment for COVID patients. Carney initially developed Chrysalin, or TP508, for skin and bone tissue repair. The drug is now being prepared for tests against cardiovascular problems found in some COVID-19 patients, thanks to over $2 million in funding received from federal government grants and the National Institute of Allergy and Infectious Diseases (NIAID).
"As we first started learning about COVID-19 and that people most susceptible to complications and death were those with hypertension, diabetes and other cardiovascular problems, we knew that our drug reversed effects on the vasculature of animals in trials," Carney stated in a news release announcing the first award, a $1.5 million grant that was released on June 1.
Although several variables remain unclear about COVID-19's effect on the world, College of Idaho alumni continue to do their part to battle the virus around the globe.
The College of Idaho has a 129-year-old legacy of excellence. The College is known for its outstanding academic programs, winning athletics tradition and history of producing successful graduates, including seven Rhodes Scholars, three governors, and countless business leaders and innovators. Its distinctive PEAK Curriculum challenges students to attain competency in the four knowledge peaks of humanities, natural sciences, social sciences and a professional field—empowering them to earn a major and three minors in four years. The College's close-knit, residential campus is located in Caldwell, where its proximity both to Boise and to the world-class outdoor activities of southwest Idaho's mountains and rivers offers unique opportunities for learning beyond the classroom.  For more information, visit www.collegeofidaho.edu.