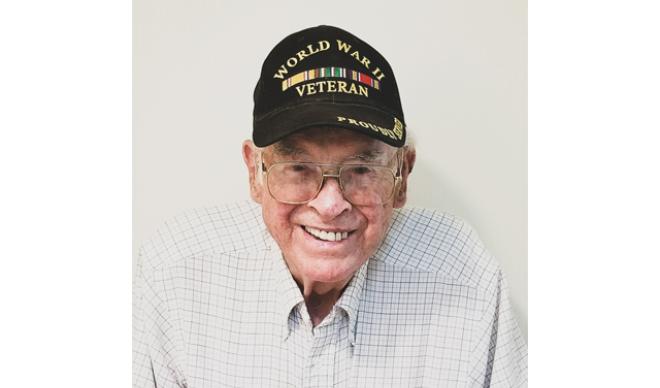 This story is included in the most-recent issue of Quest Magazine, the College's twice-yearly Alumni publication. To view the entire issue online, or to view longer-form "Quest Extra" pieces, click here.
Burton Cecil Newbry 
Graduated in 1947 
Major: English 
Age at publication: 100 years old 
We encourage you to read an interview of 100-year old Burt Newbry titled "Reminiscences from a College of Idaho Centurion" on the Quest Extra page at www.collegeofidaho.edu/quest-magazine. Newbry shares recollections he has a student and faculty member at the College. The article includes a story when, as a student, Newbry remembers "when my friend Art Hart and I chased a pig all over campus – there were several inches of snow on the ground and we were slipping and sliding all around. We never did catch that darned thing, though I don't recall having a plan for it if we had." 
Newbry also sent the following letter to Quest magazine in December 2019: 
On my 100th birthday, 8/28/19, I had intended to express my deep gratitude to the C of I for what it contributed to my life and my career, but I failed to do so. Better late than never. So whether it is published in the Quest, I wish the present administration to know my views, and my gratitude to the College. 
I enrolled at C of I, as did many other veterans of WWII, paid for by the GI Bill. I want to express this gratitude for what the C of I provided: 
I am grateful for the fine professors, probably better than at most small colleges. 
For Margaret "Babe" Boone, an almost legendary figure at the C of I, who hired me. 
For Mrs. (Anna Smyth) Eyck, who was my major professor, whose recommendation got me an assistantship at Montana State University, and where I earned my Master's degree. 
For providing the greatest good fortune of all, Ella Stone, with whom I had three boys, one of whom graduated from the College (Burt Newbry '80), as did two granddaughters, all with excellent records. 
Ironically, President Paul Pitman (College of Idaho president 1950-54), whom I detested, as did academic staff.  
The irony was that in causing me to resign, set me onto an entirely new path, first teaching three different disciplines at the University of Nevada. But after only three years there, I was recruited to the State Department and was asked to accept an assignment in Korea. I served there, then Nigeria, then Thailand, then Washington D.C., then Nepal, from which I was put on loan to the World Bank for two years (all three boys completed pre-college overseas). 
Hence, everything I did in my professional life, I owe to The College of Idaho, even the economics classes (one thing I learned is that the "dismal science" is not a science).  
So again, thank you C of I. 
Burt Newbry '47 
The College of Idaho has a 129-year-old legacy of excellence. The College is known for its outstanding academic programs, winning athletics tradition and history of producing successful graduates, including seven Rhodes Scholars, three governors, and countless business leaders and innovators. Its distinctive PEAK Curriculum challenges students to attain competency in the four knowledge peaks of humanities, natural sciences, social sciences and a professional field—empowering them to earn a major and three minors in four years. The College's close-knit, residential campus is located in Caldwell, where its proximity both to Boise and to the world-class outdoor activities of southwest Idaho's mountains and rivers offers unique opportunities for learning beyond the classroom.  For more information, visit www.collegeofidaho.edu.