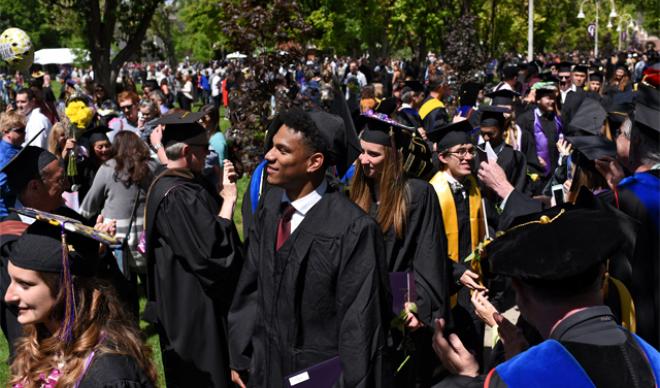 Did you miss Commencement 2019 here at The College of Idaho?
You can live (or re-live) some of the experience right here.
Click here to listen to Senior Speaker Kaitlin Heller
Click here to listen to Commencement Speaker Matt Ramsey '95
Click here to listen to graduation thoughts from some members of the Class of 2019
Click here to read a recap of the day
The countdown to Commencement 2020 is underway!
The College of Idaho has a 128-year-old legacy of excellence. The College is known for its outstanding academic programs, winning athletics tradition and history of producing successful graduates, including seven Rhodes Scholars, three governors, and countless business leaders and innovators. Its distinctive PEAK Curriculum challenges students to attain competency in the four knowledge peaks of humanities, natural sciences, social sciences and a professional field—empowering them to earn a major and three minors in four years. The College's close-knit, residential campus is located in Caldwell, where its proximity both to Boise and to the world-class outdoor activities of southwest Idaho's mountains and rivers offers unique opportunities for learning beyond the classroom.  For more information, visit www.collegeofidaho.edu.