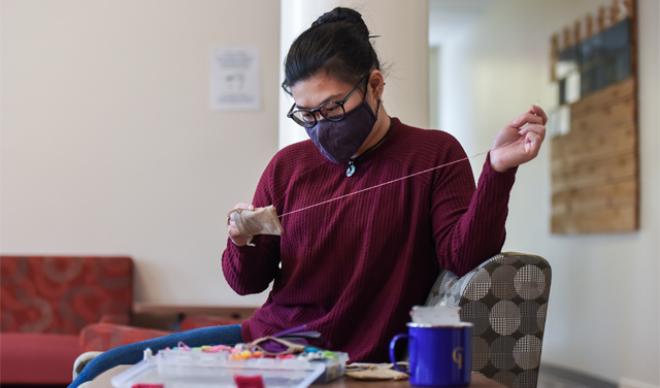 One of the tenets of a liberal-arts education is a well-rounded, diverse curriculum to expose students to different ideas and concepts, preparing them to be strong critical thinkers and problem solvers.
The College's Residence Life department is dipping its toes in those waters during the extended winter break by encouraging students to participate in the Winter Break Challenge.
The premise is simple: the students were encouraged to come up with an idea, a "challenge" that may be outside of their daily routine, and see it through during the break.
"I thought this challenge would provide students with a purpose," said Director of Residence Life Jen Nelson. "This is a fun incentive for students to learn a new skill or develop a new practice that could ultimately enrich their lives."
Junior Kaiden Lee, a biochemistry major, is one of the students participating in the challenge.
"Usually during the breaks, I try to take a break from 'school' things, and I had decided to work on some sewing projects when school was out," Lee said. "When Jen sent out the email about the winter break challenge, I figured that it would be a good way to help me stay on track with it."
Lee's choice for the challenge is sewing blankets. Senior Brittany Thach plans to broaden her sewing skills as well.
"I am aiming to get more comfortable with using my sewing machine over winter break," said Thach, who is majoring in marketing & digital media. "I am comfortable with hand sewing but I want to do bigger, more complex projects."
Neither Lee nor Thach is planning to pursue a career in tapestry, but Nelson says that isn't really the point. It's a fun way to stay busy during the downtime between the semesters while students challenge themselves to get better at something. And it was up to the students to determine what goal they would pursue.
"It is exciting to see the range of goals students have set for themselves," Nelson added.
The students agree.
"I'm most excited about making some throw blankets because they're pretty simple," Lee said. "But I love blankets."
Thach, whose first goal is to sew a Pikachu plushie doll, echoed that sentiment, saying that she signed up for the challenge to have some fun and see it through.
The College of Idaho has a 129-year-old legacy of excellence. The College is known for its outstanding academic programs, winning athletics tradition, and history of producing successful graduates, including seven Rhodes Scholars, three governors, and countless business leaders and innovators. Its distinctive PEAK Curriculum challenges students to attain competency in the four knowledge peaks of humanities, natural sciences, social sciences and a professional field—empowering them to earn a major and three minors in four years. The College's close-knit, residential campus is located in Caldwell, where its proximity both to Boise and to the world-class outdoor activities of southwest Idaho's mountains and rivers offers unique opportunities for learning beyond the classroom. For more information, visit www.collegeofidaho.edu.