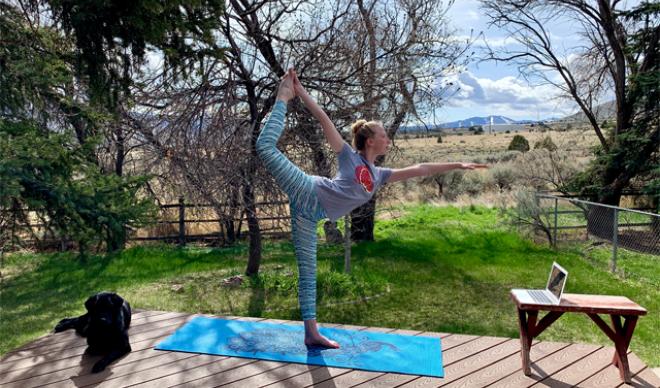 Apparently, no one told Julia Phelps that she's supposed to have senioritis.
She's a double major in history and Spanish. She's taking care of her schoolwork remotely in preparation for graduation in May. And she isn't just taking three yoga classes per week; she's organizing them as part of the Dance Club's efforts to keep the College's community connected during this spring's campus closure.
"We had been holding classes about three times a week in the fall and it hadn't really gotten started to the same degree this spring," Phelps said. "Once we went online and the pandemic became serious in the United States, I thought it would be a good way for people to connect to each other and to themselves even when they couldn't physically be present."
So Phelps, who also serves as a student tutor and the student director of the Advocate Center on campus, took the lead. The group meets three times per week: Monday morning at 6:45, Wednesday evening at 5:00, and Friday morning at 6:45. Phelps attends all of the virtual "Vinyasa Flow" yoga classes led by Jenny Beckstead. But, since Beckstead is not an employee of the College, Phelps acts as a liaison to ensure the sessions all go off without a hitch.
Online yoga isn't always easy. Beckstead, who operates a yoga and massage therapy business called "Radiant Soul" in Pocatello, admits teaching yoga in a virtual setting has challenges but she still believes in the value of the activity.
"I have learned through years of my own yoga practice though, that life is easier when you can let go of how you think it should be and flow with what is," Beckstead observed. "During this time of world crisis, I am trying not to worry about the limitations, but to offer what I can to relieve fear and help others to regulate their own thoughts and emotions."
There are close to 40 people who are signed up for classes, though the actual number ebbs and flows with each class. Phelps says she usually sees about a half dozen people at each of the sessions via Microsoft Teams, an online meeting platform. There is still time to join the group by sending an e-mail to Phelps. It is open to all students, faculty, and staff and will continue for a few more weeks.
"In my experience, yoga is a safe space to find connection and peace through movement," Phelps said. "In a time where there is a lot of fear, uncertainty, and sadness in the world, I hope that this can be a way for people to find peace to carry with them through the rest of their day or at least give them one hour to escape from the rest."
To say it has been an unusual spring for students would be an understatement. For Phelps and other seniors, the circumstances can bring extra emotions.
"As a senior, this is a really sad way to end my college career and I know many people are grieving the time that they thought they had left," Phelps said. "Some of the classes I was taking this semester, I was only taking so that I could spend one last semester with some of my favorite professors, like Mee-Ae Kim and Alan Minskoff. That being said, education is a gift and I feel very fortunate to be able to finish even via the online platform and it has made me even more grateful for the first three-and-a-half years I spent at the College."
The College of Idaho has a 129-year-old legacy of excellence. The College is known for its outstanding academic programs, winning athletics tradition and history of producing successful graduates, including seven Rhodes Scholars, three governors, and countless business leaders and innovators. Its distinctive PEAK Curriculum challenges students to attain competency in the four knowledge peaks of humanities, natural sciences, social sciences and a professional field—empowering them to earn a major and three minors in four years. The College's close-knit, residential campus is located in Caldwell, where its proximity both to Boise and to the world-class outdoor activities of southwest Idaho's mountains and rivers offers unique opportunities for learning beyond the classroom.  For more information, visit www.collegeofidaho.edu.