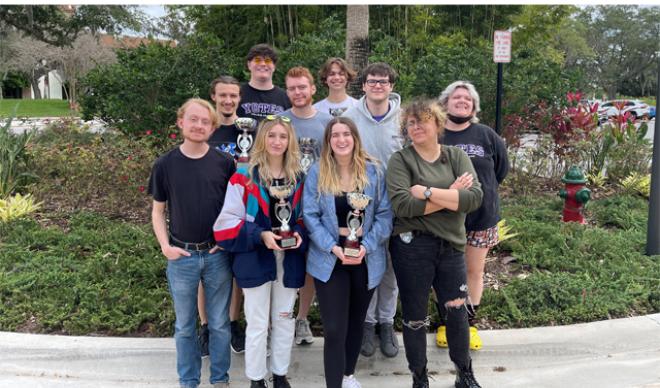 Article submitted by student Max Breiling
On March 13, 2020, when The College of Idaho announced its transition to fully online classes, The College of Idaho Howling 'Yotes Speech and Debate team was busy competing at a National Debate tournament at McKendree University in Lebanon, Illinois. While the team ended up bringing home a Top 16 finish at the tournament, no one on the team suspected it was the last time they would compete in person for the next two years.
On March 13, 2022 the Howling 'Yotes had just completed competition at the Pi Kappa Delta National Tournament in Orlando, Florida—and the last two years have certainly given the team time to develop. In the end, the Howling 'Yotes headed back to Caldwell with plenty of hardware for strong finishes:
First Place, Novice division of Public Forum debate (freshmen Hana Pfeiffer and Hunter Marang)

First Place, Junior Varsity division of Public Forum debate (sophomores Max Breiling and Melanie Dawson)

Second Place, Varsity division of Public Forum debate (senior David Luke and junior Gabriel Herring).
To cap of the impressive performance in Public Forum debate, the Howling 'Yotes ended up being ranked in the top 10-percent of all schools at the tournament competing in Debate events, earning the team national championship for schools with a limited number of entries.
"A performance like this takes an incredible amount of effort," noted Assistant Professor of Speech and Debate Kyle Cheesewright. "To win a single national title is remarkable—to bring home three in a single year is incredible—particularly when capped off with an appearance in a national final round."
Even more impressive was that for the majority of the team, this was the first time they had attended a college debate tournament in-person.
"This was my first time actually being there," said Max Breiling, a sophomore double-majoring in political economy and philosophy. "It was an outstanding experience."
While Breiling has been competing with the Howling 'Yotes for the past two years, during this time, debate had moved online inspiring the team to try out some new forms of debate. The team worked on many different events but had their eye on attending nationals in person. The PKD (Pi Kappa Delta) National Tournament provided a venue to compete in person, and the team made the decision to compete in a form of debate that was new to the College: Public Forum Debate. PoFo, as it is called by those who compete in it, is a team debate format where debaters engage each other on a topic chosen for the semester. In order to prepare, students have to gather original evidence and utilize that evidence to convince the judges, who are meant to represent the average informed citizen, to vote for the side a team is assigned to defend. The topic for the 2022 National Tournament asked debaters to explore if democracies should choose to isolate, or engage with, authoritarian regimes committing human rights abuses.
"Debaters have to start by researching the basics of the topic. They need to generate the best arguments for both sides of the debate, as well as generate answers to those arguments, because, over the course of a tournament, everyone will have to debate both sides of the topic," Cheesewright explained. "Sometimes, people think winning a debate is only about doing a ton of research or knowing how to speak to the specific experiences of your audience when in reality it requires both. You have to know a lot about the topic, but you also have to know how to make knowledge relevant to the contemporary political landscape. For the Howling 'Yotes, that meant taking general international relations theories, and connecting them with the ongoing conflict between Russia and Ukraine."
While winning is always nice, what really made this experience important to Cheesewright was the depth of the skills represented on the team ranging from students who have competed in Speech and Debate for their entire High School and College experience, like Senior David Luke, to students like Novice Division Champions Hana Pfeiffer and Hunter Marang, who had never competed in a Speech and Debate tournament until they started attending The College of Idaho this Fall.
"Winning an award was incredible for us," said Hana Pfeiffer, a freshman accounting major. "We did our best and the support we got from our coach (Cheesewright) really prepared us. We are encouraged in practice to think on our feet; we're taught how to engage with our opponents and challenge them on the toughest issues in the round."
The Pi Kappa Delta tournament featured competitors from over 70 colleges and universities across the United States, from diverse locations ranging from Rice University in Texas or Cornell University in New York. Several schools from Idaho also attended including Boise State University, Idaho State University, Northwest Nazarene University, and the College of Southern Idaho. But what really excited Cheesewright about the tournament was the way the entire team worked together:
"To win an overall title at a national tournament, you have to be competitive at every level" explained Cheesewright. "You have to be strong across the board. You can't just have one or two strong debaters. The entire team had to perform well. To win a debate round, you have to be the best debaters in that round—but in order to do that, you have to rely on your team to have comprehensive research, to talk through arguments that other schools have come up with, and to have practiced responding to the most common arguments on both sides. To win any debate round requires hours and hours of preparation."
For senior David Luke, the return to in-person competition made this event special.
"Online tournaments work when you can't travel," said Luke, who is double-majoring in political economy and philosophy. "However, in-person tournaments are when you can really perform your best. It's easier to engage with people and talk about the real impacts of the topic. You can learn from each other outside of rounds."
Overall, Pi Kappa Delta was a success for the Howling 'Yotes as they wrapped up their debate season. However, the team has no plans to rest on its laurels.
"Winning was great," Breiling concluded. "Yet you know teams are going to learn from us and try new things next year. We're a young team, there's only potential for more growth. We're already making plans for next year. The only place our team wants to go from here is up."
The 10 students who represented the Howling 'Yotes in Orlando, Florida:
David Luke (senior, political economy and philosophy)

Titan Walker (senior, business)

Gabe Herring (junior, history)

Christian Curtiss (junior, political economy)

Seth Garwood (sophomore, literature and creative writing)

Max Breiling (sophomore, political economy and philosophy)

Cosette Van Cleve (sophomore, political economy)

Melanie Dawson (sophomore, political economy)

Hana Pfeiffer (freshman, accounting)

Hunter Marang (freshman, political economy)
The College of Idaho has a 130-year-old legacy of excellence. The College is known for its outstanding academic programs, winning athletics tradition, and history of producing successful graduates, including seven Rhodes Scholars, three governors, and countless business leaders and innovators. Its distinctive PEAK Curriculum challenges students to attain competency in the four knowledge peaks of humanities, natural sciences, social sciences, and a professional field—empowering them to earn a major and three minors in four years. The College's close-knit, residential campus is located in Caldwell, where its proximity both to Boise and to the world-class outdoor activities of southwest Idaho's mountains and rivers offers unique opportunities for learning beyond the classroom. For more information, visit www.collegeofidaho.edu.