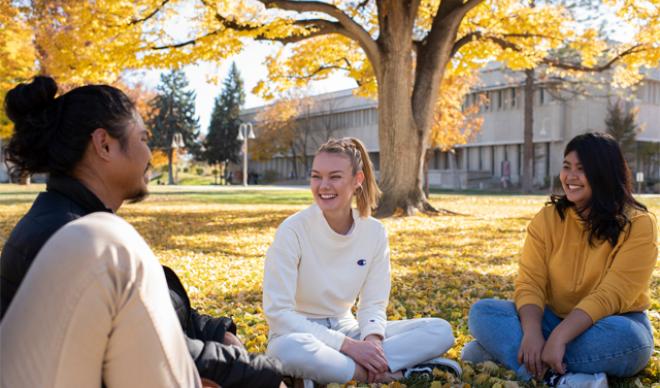 The following is from the Fall/Winter issue of Quest Magazine. To view the entire issue or to read some longer-form versions of past Quest stories, click here.
Creating a more inclusive student experience
"I knew nothing could go wrong." 
That was the mindset of Sophie Trobitzsch the moment she arrived on campus as a freshman with nothing more than a suitcase last summer. A native of Germany, she knew very few people at The College of Idaho. No support system of family or friends upon arrival. Now a sophomore, the international political economy and environmental studies double-major is beginning to make an impact on all corners of campus. She has become part of a support system that's building a more inclusive community on campus. 
Most students have their support groups, their friends, teammates and clubs. Branching out into other groups and meeting new types of people can be hard. It can be intimidating. A lot of it can come from fear of offending or saying something wrong. "You think it's so hard to make friends or to approach people but they may think the exact same thing," says Trobitzsch. "I just want to encourage people to make different connections." 
Trobitzsch wants to become a mentor and leader on campus. A resource for all students. To encourage interactions between different groups and find commonality. There are students from over 80 countries represented on campus. And with the largest incoming freshman class in the College's history, the sophomore found a few ways to help.  
For the 2019-20 academic year, Trobitzsch is the Residential Assistant and Senator for Hayman Hall. "I really wanted to support other people," Trobitzsch said, on why she became an RA. "I feel like it is really important to create an inclusive community." 
Jen Nelson, Director for Residential Life, has been particularly impressed by her intelligence and insight, especially around topics of community and inclusion. "When you talk with Sophie, you know she is always thinking — about those around her, about the world we share, about integrating ideas and theories with her lived experiences, and about how to serve the greater community," said Nelson. "Sophie's intelligence and warm smile personify a College of Idaho student."  
"She is always thinking about the student experience," said Hall Director Justin Waldron. "It is fascinating to work with her because you know she is always thinking about the whole community, not just one population." 
As a first year RA, Trobitzsch was an active participant and group leader for the McCall Wilderness Experience. She helped facilitate workshops for the freshman and encouraged them to be open and form friendships. To share their hopes and their fears. "I was really surprised by how open people were," said Trobitzsch. "The main thing I was trying to show people was that no matter where you're from, no matter what your past is, we all share common fears, we all share common hopes." 
For Hayman Hall, Trobitzsch put on a program to create door stoppers for first year students to paint. She organized it with Political Economy Professor Kerry Hunter. Together, they cut and sanded over 70 wooden door stoppers, which were made available for students to paint. Trobitzsch loves how a simple activity like painting door stoppers can make lasting personal interactions. "I love doing the small things," Trobitzsch said. "We have a great community." 
With the growth of diversity on campus, the College is experiencing positive changes toward the way students advocate for themselves, and for each other. There is an array of support from students, faculty and staff. As well as numerous clubs and organizations that celebrate different cultures and beliefs. "There are huge communities of people who are now speaking together in one voice," said Aurora Cossairt, a senior from Boise. They are saying, "we want inclusive spaces on campus."  
"Sophie is one of those students who is working to build a more inclusive community wherever she can," said Cossairt. "I think the work she's doing as an RA, as a Senator, and as Vice President of the Eco-Feminist Student Union is hugely important: everywhere she goes, she's advocating for a world that is more inclusive for everyone." 
"I'm glad to know people like Sophie are in positions where they can positively affect change on campus," said Cossairt. 
Sustainability and equality are passions for Trobitzsch. She is on the Sustainability Committee and a member of TERRA: The Environmental Resource and Recreation Association. She is one of two College of Idaho student recipients of the 2019 Environmental Leadership Initiative. The other recipient is senior Andrea Rojas-Escot, an international student from Guatemala. Trobitzsch was awarded $1,000 for her summer internship at the German Nature Conservation (DNR) and is using the leftover money to work toward a sustainability proposal on campus.  
"Being a senator really helps because I can present my ideas and get student feedback," said Trobitzsch. "It really helps from a decision-making process of improving proposals." Outside of being an RA and Senate member, Trobitzsch helped start a new club that's driving a dialogue between students of different backgrounds. The Eco-Feminist Student Union focuses on the representation of women in society and the environment. "We were really afraid that no one would sign up," said Trobitzsch. But within an hour at the club fair, the sign-up sheet was filled with over 80 signatures from international and American students.  
"In our second club meeting, we had three of our Latina members present what it's like being a Latina woman in Caldwell and on campus and how their migration background affected them," said Trobitzsch. "It was so cool to unite people and have people share their experience about their lives." "it's not just about teaching, but uniting people too." 
Since arriving on campus last fall, Trobitzsch still doesn't keep much more than what she can fit in her suitcase. But what she lacks in personal belongings on campus, she has gained by making connections and creating a space for students to come together and be engaged. Whether it's her role as an RA, Senator, club leader or friend, Trobitzsch is building a support system for everyone. 
"I just want to be able to prove that I can be there for people."   
The College of Idaho has a 129-year-old legacy of excellence. The College is known for its outstanding academic programs, winning athletics tradition and history of producing successful graduates, including seven Rhodes Scholars, three governors, and countless business leaders and innovators. Its distinctive PEAK Curriculum challenges students to attain competency in the four knowledge peaks of humanities, natural sciences, social sciences and a professional field—empowering them to earn a major and three minors in four years. The College's close-knit, residential campus is located in Caldwell, where its proximity both to Boise and to the world-class outdoor activities of southwest Idaho's mountains and rivers offers unique opportunities for learning beyond the classroom.  For more information, visit www.collegeofidaho.edu.