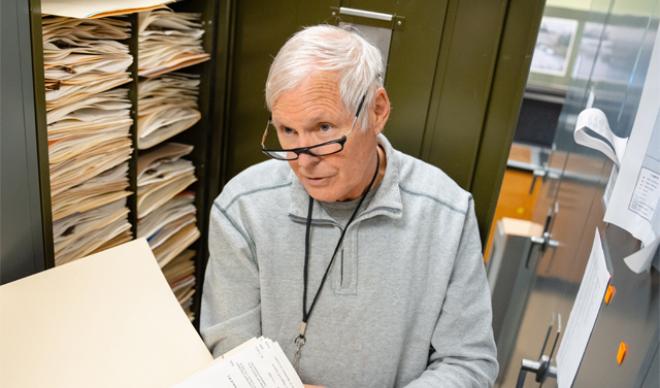 It's not uncommon to walk into the Harold Tucker Herbarium inside of Boone Hall at The College of Idaho and see Don Mansfield busy at work.
Maybe he's doing data-entry on any of the hundreds of samples of grass, flowers, or other specimens of plants that grow around southwestern Idaho. Maybe he's working on a botany presentation he's been asked to give. Or maybe he's analyzing samples of work done by the College's founder, William Judson Boone, over 100 years ago.
Mansfield, now 71 years old, keeps himself extremely busy.
He's also retired. Mansfield put away his gradebook in 2021 after more than three decades teaching at the College. Only two employees, Marty Holly (1981) and Kerry Hunter (1988), have been at the College longer than Mansfield and history professor Mark Smith, who both started at the College in September 1989.
"I don't have the daily deadlines of classes, the preparation and the grading, I don't have the meetings," Mansfield said. "All of that stuff is now off my shoulders."
Which allows him to focus on the science. The herbarium is Mansfield's home away from home, almost like part of his family. It has grown from 24,000 samples for study and examination when he arrived to nearly 60,000 today (he collected 1,500 samples for the herbarium last summer alone). He works with volunteers and contributors, he mentors students, and he continues to work to enhance the herbarium.
"I come in here two or three times a week," he continued. "I've got too much to do. I've got to finish my Owyhee flora before I kick the bucket."
With Mansfield officially retired, Dr. Rob Laport is now the director of the herbarium. He is in his first year at the College after spending four years in a similar role at Rhodes College in Tennessee but welcomes Mansfield's presence.
"Without Don, the herbarium would have, unfortunately, fallen dormant for a time while I prioritize and manage my time to deliver courses and conduct continuing research," said Laport, who also serves as an assistant professor of biology. "However, his expertise and familiarity with the herbarium, and the associated group of friends and expert volunteers, has continued the tradition of impactful research produced by members of the College community."
The importance of the work goes beyond the classroom. Mansfield and research assistant Dr. Barbara Ertter '75 described a plant (Potentilla maryae) uncovered in a meadow along the roadside near Dagger Falls, east of Cascade, a popular spot along the Middle Fork of the Salmon River in the Boise National Forest. It's one of only two places in the state of Idaho where researchers have found this plant.
"This is a road that could be widened or paved," Mansfield explained. "If there's a fire, they could easily bring in all these trucks to fight the fire or stage a fire camp, and then that plant is gone. It's important to let people know what we've got before we lose it."
It's part of what drives Mansfield, even in retirement, to continue his life's work instead of kicking back and easing off now that his teaching days are done.
"I can go for a stroll easily but I can't close my eyes to the world around me," he said. "I don't have a lot of years left on this planet. I really love it and I want to spend more time being in it."
The College of Idaho has a 132-year-old legacy of excellence. The College is known for its outstanding academic programs, winning athletics tradition, and history of producing successful graduates, including eight Rhodes Scholars, three governors, and countless business leaders and innovators. Its distinctive PEAK Curriculum challenges students to attain competency in the four knowledge peaks of humanities, natural sciences, social sciences, and a professional field—empowering them to earn a major and three minors in four years. The College's close-knit, residential campus is located in Caldwell, where its proximity both to Boise and to the world-class outdoor activities of southwest Idaho's mountains and rivers offers unique opportunities for learning beyond the classroom. For more information, visit www.collegeofidaho.edu.